Selk'Bag Lite Sleep Suits
FREE DELIVERY

Included
Order by 12PM For Delivery Tomorrow
Please select from the following options:
Selk'Bag Lite Sleeping Bag Suit

The Selk Bag Lite (formally the Musuc Bag Lite) is the lighter and less bulky version of the original MusucBag Classic – a sleeping bag suit perfect for use in the British outdoors.
There's nothing better than feeling totally warm as you curl up in your tent or campervan at the end of a great day in the outdoors. In fact, there's not a lot better than walking around your campsite at the end of the day feeling cosy either. We have a couple of options for you to choose from.
Ideal for British temperatures & seasons
The Selkbag Lite offers a cooler option for when we actually get to see that shy British summer sun.
These sleeping bag suits are ideal for spring/summer time use or just for wearing indoors on chilly winter nights too. They're made of soft fabric that protects you comfortably between temperatures ranging from -1 to 12 degrees Celsius – they even have extra leg and collar ventilation to ensure you're kept warm during the coldest parts of the night.
Ideal For Festivals

So far, the MusucBag Lite has proved popular with festival campers – who find the Musuc Lite / SelkBag Lite ideal when the evening temperatures drop. When you think about it, it just makes sense too. How else are you going to walk around your campsite, with beer in hand, in total warmth?
Comfort
Different Selk Bag's have different comfort temperatures. This one has a comfort temperature of 12 degrees, and an extreme temperature rating of -1 degrees, which means it's just perfect for those summer months in the outdoors.
The Selkbag Lite is made of soft fabric and has great little extras including ventilation for the legs and an insulated collar with cord lock for extra warmth once the temperature cools down during the night.
Mobility and Freedom
The Selkbag MusucBag Lite Sleeping Bag Suit for people who don't know, has separate arms and legs so that you can walk around as you please. It also means you can starfish as much as you like at night – if you've got a big enough tent.
As a lighter version it does have added perks too – it's easier to store and carry as it isn't as bulky, even though both have all the mod cons including; insulated hoods and Velcro hand release system.
Conclusion

These great, practical features mean that the SelkBag Lite is your perfect partner for any future outdoor or indoor adventures.
Are you spending the summer out camping with friends? Do you want something comfortable to wear around the house when the temperature drops at night? Maybe you're heading to a festival and you want to be able to walk around in it a bit while the food's on?
Whatever the occasion, the Selkbag Lite will not let you down.
Basically, Planet Camping knows that all Selk Bags Sleep Suits are great buys, but depending on what your plans are, one may be better suited to you than the other. Be sure to check them all out before you make your choice!
Product Specifications
What size Selk'Bag should you get?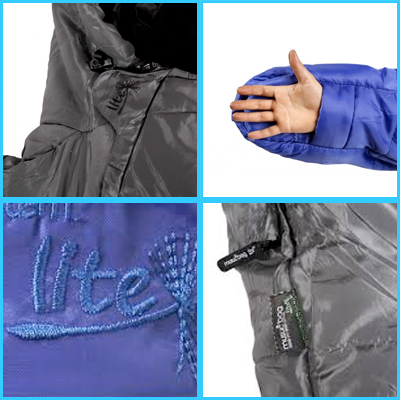 MusucBag offers a Medium, Large and Extra Large option here. Check them out here:
Medium:
156cm - 169cm/5ft 1" - 5ft 6"

Large:
170cm - 184cm/5ft 7" - 6ft 0"
Extra Large
185cm - 202cm/6ft 1" - 6ft 8"
Basically, if you're under 5ft 7 then get the Medium, closer to 6ft 3 then get the Large and if you're a camping giant at up to 6ft 7 then get the Extra Large. We also recommend that men always go for the larger sizes, while women should go for the smaller if in doubt.
Colour choice
Weight
Medium - 1.3kg
Large - 1.61kg
Extra Large - 1.8kg
Materials Used
Filling - Hollow Fibre Bonded
Shell - Polyester Taffeta 70D
Lining - Polyester Diamond 50D
Customer Reviews
Service rating : good all round
Product: great
Service rating : The company is fab. Quick posting. Easy website. Unfortunately, my camping trip was cancelled and items returned, however Planet Camping provided a quick refund on unused item.
Product: I'm sure they are fab..camping trip cancelled, so never used.
Service rating : had a problem with a product, all sorted with no real hassle
Product: very happy with product
Service rating : Was very impressed with their customer service/communication.
Product: Good quality item, I love it and very reasonably priced too
Service rating : Very quick and prompt service - Delivered very quick.
Product: purchased as Xmas Present = yet to be given
Service rating : No fuss, on time, best kind of transaction.
Product: Look like a Yeti! But who cares…I'm warm!
Service rating : Very quick delivery. Good not to have to pay for delivery.
Product: This is a Christmas present for someone so not sure yet.
Service rating : Excellent customer support to try and sort out a delivery problem
Product: Great product
Service rating : would be using again
Product: sizes are not quite right, I am 5'10 and its tight on me, says its fine up to 6'
Service rating : Fast and reliable
Product: Recommended
Service rating : The customer service was brilliant. I dealt with them via their eBay and website and cannot fault either through the whole transaction.
Product: I love the idea of this but it just didn't fit right and if your going to sleep in it it has to be 100% comfy in my opinion. It was well made so no problems there either.
Service rating : Great, fast service.
Product: My son loves it! Will have to peel him out to pop it in the wash!
Service rating : Next day delivery with a smile, brilliant.
Product: I absolutely love it and use it to meditate in. All my friends are jealous!
Service rating : Very quick despatch, friendly and helpful on the phone. No complaints at all
Product: Great product, well made cozy and does exactly what it promises
Payment, Delivery & Returns Information

» Click here to read full details about our delivery, including times & prices
You might also like: