Compare Inflatable Tent Types and Prices
Blow up tents (Air Tents or Inflateable tents) are all the rage at the moment but tend to be a considerable investment, which makes a the facilty to compare them very useful.
They are a relatively new concept to the camping world because they provide an easy and hassle-free way of erecting a tent that has ever been seen before.
How Many People does the tent need to cater?
How Many bedrooms will you need?
Brand (Indicative of Quality, or from your own experience)
Hydrostatic Rating - BIG WORD, but this is fantastically explained in this short article.
Colour
Price
Other considerations may be :
Packed Weight
Packed Size
Brand
Birth
Bedrooms
Colour
Hydrostatic Head
Pole Type
Gone are the days when you had to turn up at your desired location and spend hours erecting and stabilizing a tent. Instead, today, you can purchase a blow up alternative and have the luxury of sitting in a strong and durable tent within minutes of you arriving - Bliss!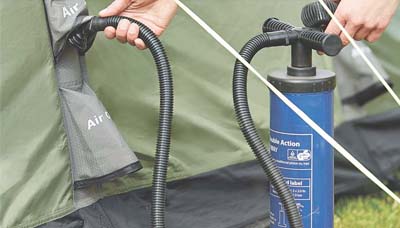 Compare Build Quality of Air tents
They literally take minutes to erect, simply unpack and put the pegs in place. The pump does the hard work and blows them up perfectly to give you the very best accommodation in the quickest possible time.
As well as excellent basic features, one must compare these types of tents for the perspective of the modern facilities thtat they come with and bare convenience in mind. Camping Luxury really is possible with these incredible tents now, but take time to study the features available form different brands in order to make a true like-for-like comparison as far as this is possible.
There are darkened bedrooms for a better night's sleep and general sitting space has also been maximized to the full.
They are also great looking and ooze strength and character. They will certainly stand out on a camp site.
Comparing Sizes of the Air Tents Available today
Available in different sizes, these tents come complete with a pump and repair kit as well as great reputations for strength, durability and overall excellence.
Complete with sewn in ground sheet and many other conveniences, it is the perfect way to modernize your camping experience.
Blow up tents are the way forward if you want a bit of luxury and convenience added into your camping journey and are perfect for people new to outdoor leisure, who want to keep the experience as easy and as straight forward as possible.