Summit Sleeping Bag Onesies
The Summit Motion Sac Onesie is Planet Camping's recent addition to the Sleeping Bag Suit range. Versatile with detachable feet, available in solid Blue or Green colouring and zip enclosures for hands.
Ideal for all outdoor activities including camping, festivals, fishing and boating (though not waterproof) and popular for wearing about the house to save on heating costs. Light in weight but with super insulation The sleeping bag onesie still has a 3 seasons rating. In an attractive Blue or Green with a charcoal colour lining.
No longer do you have to part from the comfort of your sleeping bag, you can now keep nice and warm wrapped up in a cocoon of comfort.
Colour
Filling Type
Season Rating
What is so good about the Summit Onesie?
Summit Onesie Sleep Suits are relatively new to the sleeping bag market and we think you'll agree they're just about the coolest thing around at the moment.
It's a revolution - a sleeping bag that you can actually walk around in, one to keep you cosy around the campfire but that still lets you reach for that cup of tea or beer. What more could you want?! As a growing company in the UK, Summit are pushing the boundaries on a large number of camping products to make outdoor activities far more affordable than they have been in previous years.
What activities can I use the Summit Onesie Sleep Suit for?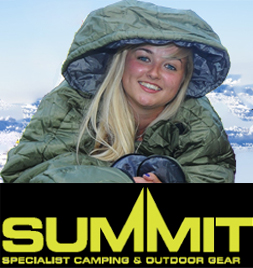 Quite simply, this sleeping bag suit is just incredibly versatile. It has detachable feet so makes it perfect for slipping your wellies on when you need to pop outside and zip enclosures for hands so you're comfortable whether you need to be curled up in a ball or sprawled out across your entire tent.
These are perfect for festivals and you can move around at ease, whilst remaining ultra comfy and warm. A trend that has grown out of Japan, you can be sure your fellow festivalgoers will cast envious eyes towards you when you're watching your favourite act from the comfort of your motion sac.
It's a three season sleeping bag, perfect for use at all times of year, that provides you with the highest level of comfort and warmth whether you're camping, fishing or boating or simply want an extra bit of comfort when you're in front of the TV at home.
This Motion Sac suit allows you to find your optimum camping sleeping position, and it moves with you as you snooze without restrictions.
On top of this it's easily transportable, so when you're finished you just pop it back in its bag and you're done. Oh, and it comes in an attractive blue or green colour too – you can just follow your heart on that one.
What are the main features of the Summit Onesie?
Packed size: 42cm x 25cm
3 seasons rating
Synthetic filling making it easy to clean
Comes with stuff sack
Two sizes available
Comes in two different colours
Detachable feet
Outer: 190T Polyester
Lining: 170T Polyester
Filling 250GSM Hollow fibre