Novelty & Funky Looking Fun Tents
Fun Tents
One shouldn't take themselves too seriously while on holiday. And, while it's prudent to be prepared and be sure you have all the little necessities for your camping trip, no one says that you can't have a little fun while doing so. Our selection of novelty tents are sure to liven up your campsite and invite conversations from passersby all while ensuring you have a functional place to sleep.
Planet Camping features a few crazy, fun styles to get you outdoors and we are always looking for the next cool tent.
The VW Campervan, an icon of the diehard gypsy traveler from the 1960's, has enjoyed a very strong comeback in recent years with many fans refurbishing units and planning globetrotting trips. And while a Campervan may be a little out of budget, or not quite useful enough for everyday life, you can still be a part of the revival with one of our licensed VW Campervan tents.
These unique, fun, and yet entirely camp-savvy tents are sure to take your camping style up a notch. And they are big enough for the whole family. The footprint of the VW tent is the same as the real thing. The interior dimensions are 3.8m x 1.83m x 1.45m which gives you plenty of room for four adults. The printed doors open just like the real thing so you won't have to squeeze through teeny triangular openings like smaller trekking tents.
The VW tent features a unique design whereby the printed shell functions as a rainfly with the mesh tent clipping to the interior once the shell is erected via a series of sturdy poles and guy lines. A divider creates two separate rooms for sleeping or lounging. Even though they will get everyone laughing, the VW tents are well designed and constructed. you won't have to worry about your tent collapsing onto your head with a hint of wind.
If you want the kids to have their own getaways, the VW tents are also available in smaller kid-friendly sizes. These tents are ideal not just for camping but for setting up a mini VW fleet in your backyard for days and nights of fun. Add the London Underground kids tent and you'll have a virtual city set up in minutes.
Eye catching Tipi Tents
Novelty doesn't always need to imply humour; it's more about being unique and setting apart from the crowd. The Robens Klondike Tipi tent does just that. It is designed to resemble the marriage of a traditional yurt and tipee tent. The circular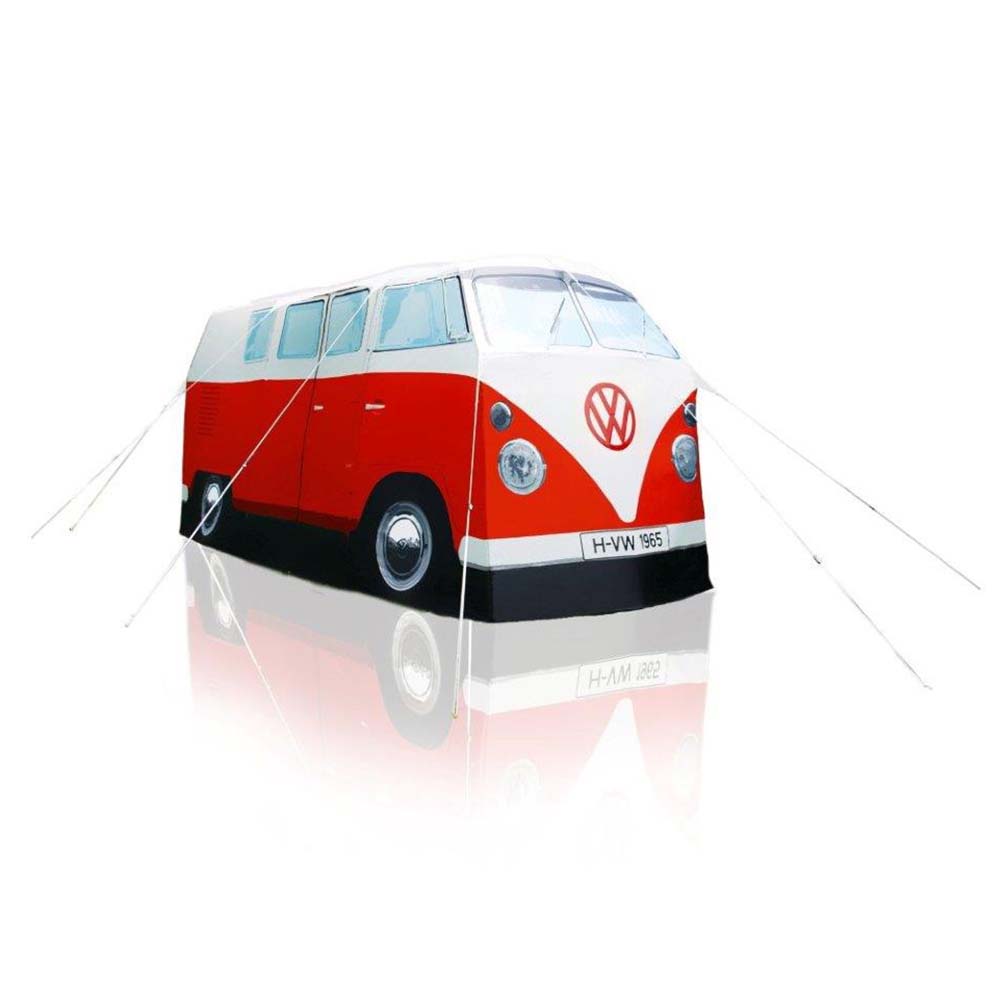 design is a great floorplan for gathering and chatting and its footprint is large enough for the whole family – up to six adults. Once again, it isn't just fun to look at. It also features a canvas fly with nylon taffeta PU-coated zip-in floor that lays over an equally sturdy groundsheet. Mimicking the style of its traditional predecessors, the Klondike also features a stovepipe porthole.

If you've been prone to thinking that camping is boring and that all that gear is just designed with function in mind, our novelty tents will have you running away to sleep in our Campervan tent the first free day you get.