Sevylor Inflatable Kayaks
Sevylor Tahiti 2
Key features
Padded, comfortable seats
Integrated handles
Cords to pull in shallow water
Valves for added leak protection
Spray covers
Easily transportable backpack
Paddles not included
Backpack System
Handles
Specifications of the Sevylor Tahiti 2
Size: 3.15m x 0.53m (10" 4' x 2" 9')
Weight: 9.8kg
Capacity
Max weight handled: 400lb (181.44kg)
2 people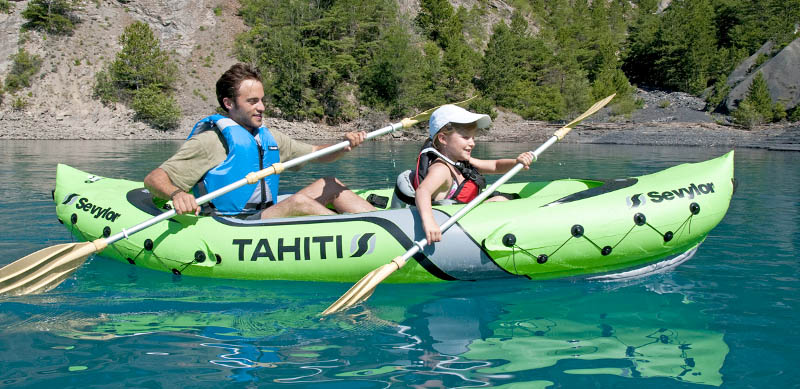 Tahiti Plus
Key features:
Double Lock valves
Inflatable side chambers
Integrated pressure gauge
Integrated spray deck
Handles
3 removable seats
Backpack system
Specifications of the Sevylor Tahiti Plus
Size: 3.61m x 0.9m
Weight: 11.7kg
Capacity: Handles weight up to 200kg
3 People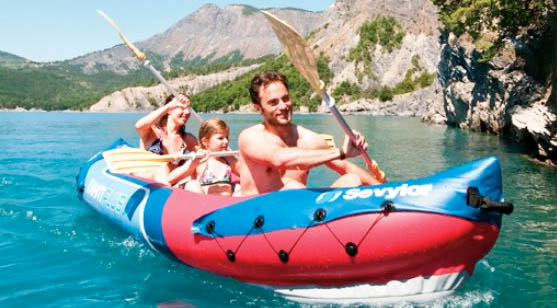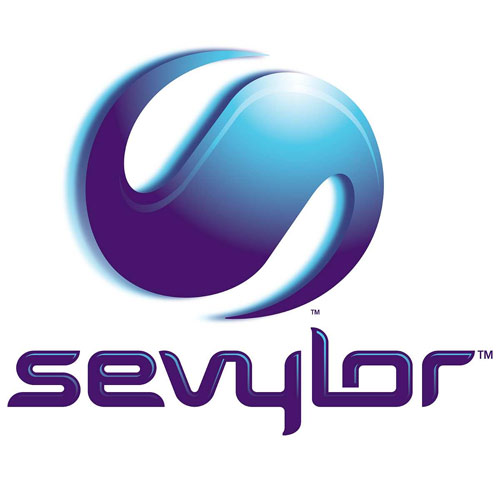 Sevylor High Quality Inflatable Kayaks
The three main models offered on Planet Camping are:
The Sevylor 2-person Adventure Kit
The Sevylor Tahiti 2
The Sevylor Tahiti Plus
The Seyvlor 2-person Adventure Kit is a compact kit with all the necessary accompaniments that fits easily in a car or campervan already stuffed to the gills with camping gear. It manages this as it is an inflatable kayak. It comes with a floor pump to easily inflate, and folds down to a fraction of its size for travel or for in-tent or campervan storage while you are enjoying land activities.

The Adventure Kit isn't just your basic inflatable either. It features a removable fin, being the main addition for stability when in place but removeable for shallow water.
A drain plug is fitted if you find yourself bailing water in wind chop. Its design consists of 3 separate inflatable chambers so that if you get a puncture you'll still make it safely to shore.
For comfort, which goes above and beyond the run of the mill inflatable, you'll be happy to find padded seats, carry handles, bungee cords, and a repair kit all included.
Easy-Carry Inflatable Kayak
The Tahiti 2-person Kayak by Sevylor goes one-step further with a compact backpack-style carry and store system. But, compact doesn't mean cheaply constructed, quite the opposite. The Tahiti is constructed from Heavy-duty PVC for a robust build for years of summer fun.
Stability when needed
For the less-experienced kayaker, or with a family with young children, you may wish to look at the Tahiti. Unlike other inflatables the Tahiti model is designed with a tubular I-beam floor, which provides a more stable bottom, which in turn reduces roll while you are paddling.
Because of this design, they are easier to handle and ideal for those who wish to get out on the water but may not have a lot of experience. Stability also assists when you are floating with small children who may shift around a bit more than adults.
For added security the padded seats feature backrests. This model is designed for safety. In fact, it can even be paired with the directional skeg, which will help you navigate with ease.

If your plans involve a third person or child, then you'll need a model that accommodates everyone, because no one wants to be left out of the fun and relaxation. The Sevylor Tahiti Plus Kayak is a 3-person model that like its smaller siblings is easily transportable in your car, on a roof rack, or in your campervan.
The kayak is constructed of durable PVC with inflatable side chambers and an integrated pressure gauge to ensure that pressure throughout the kayak is consistent. To assist with balance when rowing with wiggling children, the Tahiti 3-person also features an integrate I-beam design for stability in choppy waters.

No matter how many people are heading out on the river or sea and regardless of level of experience they have, at Planet Camping we have a style of inflatable kayak to suit your needs. Sevylor is one of the leading inflatable manufacturers and we know that with their sturdy, yet easy-to-transport construction, you'll have peace of mind out on the water.
Don't forget to check out all of our accessories such as paddles, foot pumps, and even our fun towels to ensure that you have a worry-free holiday.
Sevylor Adventure Kit
Key features:
Removable seats
Carry bag
Paddles
Bungee cord and handles
Easy drainage system
3 inflatable chambers
Repair kit
Owner's manual
Pump
Specifications of the Sevylor Adventure Kit
Inflated: 314cm x 88cm
Weight: 11.5kg
Can hold weight up to 165kg
2 People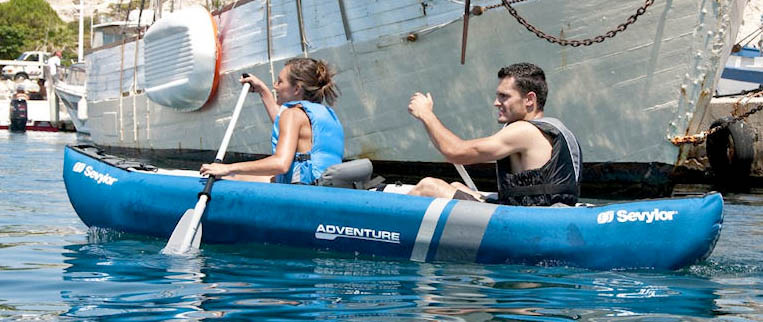 Customer Reviews
You might also like: