The Best Types of Sleeping Bag Suits 2023
A sleeping bag suit is a modern take on the traditional sleeping bag, with the added benefit of arms and legs. Offering options for kids too, these adult all in one sleep suits are made from cosy, durable fabrics that keep you comfy as you sleep, while also coming with innovative features - such as detachable feet, zips for the hands, and cosy hoods for when you are up and about.
They are often referred to as :
Human sleeping bags
Sleeping bags with legs
Sleeping bag onesies
Duvet suit all-in-ones
Sleeping bags with arms and legs.
To help you get to grips with what Sleeping Bag Suit is best for you, we have compiled a list of The Best Sleeping Bag Suits around, listing their individual features, and why you should take one on your next camping trip.
Hygger Nanuk Sleeping Bag Suit
The Hygger Nanuk is the latest addition to our range of Sleeping Bag Suits. Warm with 3M Thinsulate insulation and super lightweight with a smaller pack size than the other models making it the ideal choice for campers, hikers and travelling.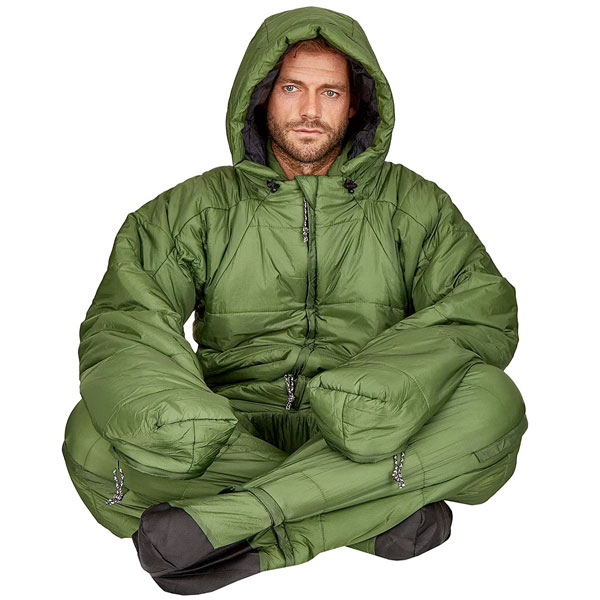 The Hygger Nanuk Sleeping suit is also ideal if your storage space is an important factor on your trip. It holds the same temperature rating as the heavier suits, but is more practical.
It can be used for outdoor adventures and sleeping, but could also be used at home on the colder evenings.
Features of the Hygger Nanuk Sleeping Bag Suit
Lightweight & Compact
Removable booties
Insulated hood
3M Thinsulate filling
4 Colours available
---
The Selkbag 6G Original Sleeping Bag Suit
Until recently known as the MusucBag, Selk'Bags, introduced by a Chilean designer now offers different variations of everyones favourite sleeping suit to prove there really is something for everyone. From adult sleep suits, to sleeping suits for toddlers, you will find what you need here.
SelkBag have been creating innovative sleeping bag suits for years now, which means they provide quality products which were made with the outdoors in mind.
Coming in a range of vibrant colours and innovative varieties, these suits will keep you warm, dry and looking good - whatever you're up to this summer. New for 217 is the Realtree Xtra range for those who like a little camouflage! And for Star War fans there are now licenced Star Wars Selk'bags!
There is also a Lite version, which is popular for the summer, and a kids version, so that the whole family can get involved. It goes without saying that any of the models make superb gifts at any time of year.
New Original 6G Selk'Bag Sleeping Bag Suit with improved features including removable Booties, kangaroo pocket, side access point and cargo pocket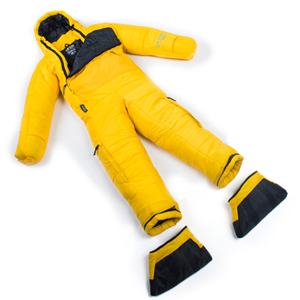 The Selk'bag 6G Original has extra stylish features for comfort and practicality, it gives you the ability to have a cosy and comfortable sleep on any trip, in any place.
This particular sleeping suit is more compact for easy transport, and it's also more lightweight for the times when you can't pack too heavy.
Features of the Selkbag 6G Sleeping Bag Suit:
Extra ventilation
Kangaroo style pocket
Side Entry
Removable booties
Stuff Sac included
---
Selkbag 6G Lite Sleeping Bag Suit
Want a slightly lighter product than the SelkBag Classic? That is where the SelkBag Lite comes in. Ideal for temperatures ranging from 12 to -1 degrees Celsius, it is a sleeping suit that is truly ideal for the Great British outdoors.
Complete with leg and collar ventilation to keep you at the right temperature, it is the less bulky version of the Classic that features a quick Velcro hand release system and a cosy hood. You will not be disappointed.
The Selk'bag 6GL is the new model for 2019. With improved mobility for sleeping and when on the move. This sleeping bag onesie will keep you warm during your outside adventures and inside too!
Features of the Selkbag 6G Lite Sleeping Bag Suit:
Elastic Hand Enclosure
Kangaroo Style Pocket
Removable Booties
Insulated Hood
Weather resistant polyester softshell
---
The Summit Onesie Sleeping Bag Suit
The Summit Motion Sac has been around a few years now. A popular simple all round Sleep Suit with removable feet.
The Summit Onesie is a great suit at one of the most affordable prices. This suit offers incredible value looking at what else is on the market. We have tested these and our evalution is that they are great for the money and still deliver very good insulation properties.
Features of the Selkbag 6G Sleeping Bag Suit:
Super insulated, lightweight, durable and packs away into its own Stuff sack.

3 Season Sleeping Bag - Suitable for -5 to +8 degrees celcius. Ideal for camping, fishing & festivals

Zip enclosures for hands keep fingers protected and out of the elements

Detachable feet sections zip off for easy cleaning and movementand allow wearing of footwear.

Outer: 190T Polyester, Lining 170T Polyester, Filling: 250GSM Hollow Fibre
---
Adult Wearable Sleeping Bag Suit
This sleeping bag suit is breathable, moisture-proof, convenient, light, soft, warm and comfortable. Everything that you need in a sleeping bag suit.
Features of the Adult Wearable Sleeping Bag Suit:
Doesn't Restrict Movement
Arm holes
Breathable & Comfortable
Easy to Carry
---
Kudd.ly Waterproof Outdoor Hoodie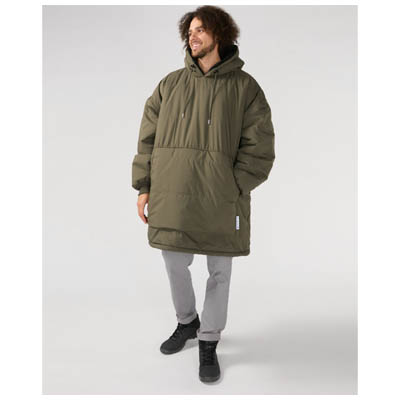 Completely waterproof with soft sherpa lining. One size fits all
Machine washable

Large kangaroo-style front pocket with popper pocket clasps to keep your possessions safe

Key leash to keep your keys secure & smaller inner pocket to prevent them scratching your phone or glasses

Super soft sherpa fleece lining - as snug as our classic Hoodies!

Hood and bottom drawstrings to protect you from the rain

Breathable for ultimate cosy comfort without feeling sweaty

Ultra wind resistant for even the blusteriest of British weather


Various colours available
---
Rab Expedition 8000 Suit
This suit is for use in the harshest environments, specifically for use in extreme cold conditions at high altitude.
Features of the Rab Expedition 8000:
Pertex® Endurance Outer Fabric
Pertex Quantum® Lining
850FP R.D.S. Certified European Goose Down
3 Outer pockets & 2 internal
Reflective print
---
Optimum Sub Suit
This suit is warm, comfortable and flexible. Very popular for wearing after sport activities during cold days. It is a premium quality product which uses heavyweight, quilted 4 ounce of coated nylon in one coverall.
It is designed to keep the body warm on the coldest of days.
Features of the Optimum Sub Suit:
Comfortable and Flexible
Heavyweight and quilted
Two side zip pockets
Waterproof
Which Sleeping Bag Should I Choose?
Choosing the ideal sleep suit really does depend on what you need. We have sleeping suits for men, sleeping suits for women and even sleeping suits for toddlers if you need them. These types of human suits are designed for mobility and give you the freedom of movement of arms and legs just like normal clothing. If walking around is not a necessity then consider the real luxury of a cotton-based sleeping bag like the Outwell Constellation Lux which takes snuggling to a different level!
Here is our useful table to help you compare the sleeping bag suits on offer:
FEATURES
SELKBAG 6GO
HYGGER
SUMMIT ONESIE
SELKBAG 6G LITE
SELKBAG 4GO
SELKBAG REALTREE
Removable Booties
Yes
Yes
Yes
Yes
No
Yes
Leg ventilation
Yes
Yes
No
No
Yes
No
Entry zip location
Side
Central
2 x Side
Side
2 x Side
2 x Side
Hand enclosure type
Elastic
Zip
Zip
Elastic
Velcro
Elastic
Style of pocket
Kangaroo
None
None
Kangaroo
Chest
Cargo
Weight (largest size)
2.08Kg
1.5Kg
2.2Kg
2Kg
2.01Kg
2.31Kg
Comfort temp rating
7

°c

7

°c

5

°c

12

°c

9

°c

4

°c

Extreme temp rating
-11

°c

-11

°c

-5

°c

-8

°c

-9

°c

-12

°c

Outer lining
Rip Stop & DWR Shield
Rip Stop
Polyester
Polyester & DWR Shield
Rip Stop
Rip Stop & DWR Shield
Inner lining
Polyester
Nylon Taffeta
Polyester
Polyester
Polyester
Polyester
Insulation type
Polyester Fibre
3M Thinsulate
250GSM Hollow Fibre Polyester
Polyester Fibre
Polyester Hollow Fibre
Double Polyester Fibre
Shortest body height size
5ft
5ft 5"
5ft 7"
5ft
5ft 1"
5ft
Max body height
6ft 4"
6ft 9"
6ft 2"
6ft 4"
6ft 6"
6ft 4"
How should I take care of my Sleeping Bag Suit?
Each sleeping suit option will have care guidelines, and we would always recommend following these completely. The sleep solutions offered here are designed to last you for seasons to come, provided they are looked after in the right way.
See details on each individual product page, but we think you will find these products are totally easy to maintain.
Here at Planet camping, one of our core products has always been the sleeping bag suit. They're a mad idea that came from a Chliean inventor and the word has quickly spread about these fun suits. They have an element of comedy about them when you watch people walking around in them, yet there is a serious element of warmth behind these products.
Lazypatch Duvet Suit
Yes, you did read that right, the words duvet and suit have just been used to describe one dreamy product, and it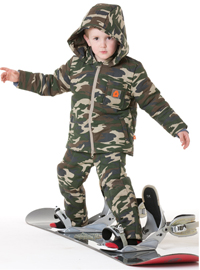 really is as delightful as it sounds.
The lazypatch duvet suit was originally created in Australia, and was invented to make you feel like you have never left your bed. Created with 100% cotton lining and polyester fill, it will keep you 4 times as warm as a blanket or onesie and the best part is, you can walk around in it and put your boots on if you need to step outside.
Jacket and trousers come separately so you can truly decide what suits you, extra-long arms keep you toasty and you even have a detachable hood so that you can really snuggle up.
This truly is the product of the season.
Duvet suit sizing means it is available for all ages, and we would recommend the lazypatch duvet suit for wearing around the home or for walking around the camp site but be sure to put some good shoes on first for the latter.