lazypatch Kids Duvet Suit
NEXT WORKING DAY DELIVERY
On this product to UK Mainland
Order before 12PM today and get it Tuesday 15th June
Worried about your little one feeling the cold this winter? Need something cosy for the kids to sleep in while you're on your travels? Maybe you're just off on your next camping adventure? We have the ultimate sleeping solution.
Whether the kids are camping, at sleepovers or just wondering around the house - the lazypatch Kids Duvet Suit will make them feel like they've taken their beds with them, providing optimum comfort no matter where they are. There's no need for you to be jealous either – check out our adult lazypatch Adult Duvet Suit to see the options we have to offer you.
Friendly natural cotton duvet suits
Lazypatch has really thought things through when it comes to the design of these duvet suits – they're made of 100% cotton with polyester fill, just like the adult suits, to ensure that the kids are always feeling cosy and toasty. In fact, you'll find that these suits are four times warmer than a onesie!
On top of that, the cleverly placed zips give you total control over the air getting in and out of the duvet suit, so that you're always able to get your child to the right temperature for them.
Fun lazypatch designs
Your little explorer deserves an adventurous design, and they don't come better than this Camo Kids Duvet Suit version. If they love the outdoors, dream of being a soldier or just want to feel like Action Man then this is the suit for them. Other duvet suit styles include pink and navy blue too, so there really is something for everyone.
Perfect for travelling about
Whether the kids are asleep in the car after a fun weekend away, or running around the cold campsite in the evening – they're simply going to love the comfort and warmth they get from these duvet suits. That takes the worry away from you too, and the hassle of packing extra blankets for around the campfire in the evening.
Suits for the whole family
We don't want anyone to miss out on ultimate cosiness during the colder months, and neither does lazypatch! It's for this reason that the manufacturer offers sizes fit for the whole family. As you can see in our size guide, kids duvet suits go up to age 11 – but the adult duvet suits start from 11 years too, so no one has to miss out.
On the smaller sizes, you'll notice that lazypatch has featured an elasticated waistband as a handy feature as well. This encourages your little adventurers to dress themselves, and also allows a little room for growth too – we know how quickly they grow up!
Key Features
Perfect for long journeys in the car – car seat friendly!
Elasticated waistband
Removable hood
Handy zips
Made From:
100% cotton lining
Polyester filling
Size Guide:
K2: 2-3 years
K4: 3-5 years
K6: 5-7 years
K8: 7-9 years
K10: 9-11 years
Care Guide:
Please either hand wash or machine wash on a cold setting – rinse well
Mild detergents only
Do not put in the tumble drier
Do not iron the duvet suits
Do not take to the dry cleaners
Ensure the product is properly dry before re-use
Do not use bleach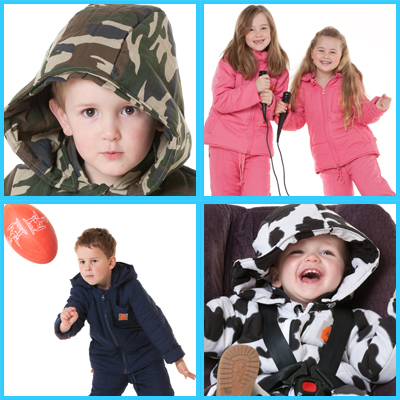 Delivery & Returns Information
» Click here to read full details about our delivery, including times & prices
You might also like: