Last updated on August 24th, 2022 at 01:27 pm
One of the best ways to enhance your enjoyment of the water is with an inflatable kayak. There's no more convenient way to enjoy an adventure on the water. Being inflatable, your kayak can easily be stored in a car, van or tent and then inflated ready for use whenever you want to explore the water.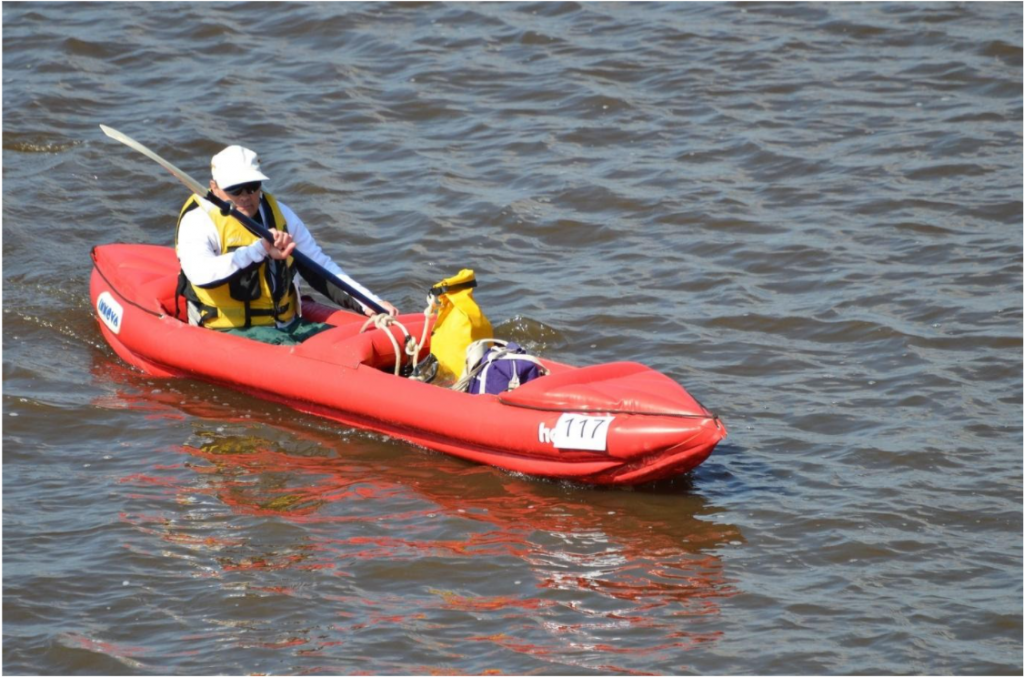 By taking an inflatable kayak with you on holiday, you multiply the amount of fun you can have! You can explore lakes, rivers, canals, calm seas and the like. Take your holidays to a whole new world of exploring, seeking out new spots that simply aren't accessible on foot. An inflatable kayak can open up plenty of new possibilities.
It's a safe and cost-effective way to enjoy kayaking without the need to splash out on a hard boat and the necessary racking for transporting the boat around with you. When you're done with the kayak, simply deflate it, pack it away and take it with you.
In this article we're going to look at the best inflatable kayaks for 2021, so you can make a well-informed choice before heading out to make a purchase. We'll be looking at different options to suit a range of budgets and requirements, so you'll have lots to choose from.
Best inflatable kayaks
There's a range of kayaks to suit different budgets and requirements – some are faster, sleeker and higher performance. There are bigger, heavier boats that are best suited for family use and offer better stability. They're available in 1-3 man versions with different configurations.
Best single seat kayak – ITIWIT 1 Man Inflatable Kayak (£169.99)
If you're in the market for a single seat inflatable kayak, this is the perfect combination of style and substance. It's large enough to comfortably seat one person and gives lots of storage room for essentials. It'll open up a world of waterborne exploration without breaking the bank.
The streamlined profile makes for easy paddling and the comfortable seat ensures you'll enjoy a pleasurable paddle. This is a no-frills boat that does everything it needs to. It's quick to inflate and deflate, easy to store and comes with a carry bag. It's suitable for users up to 100kg (220lbs).
Best budget inflatable kayak – Intex K2 Challenger Kayak 2 Person Inflatable Canoe (£175.75)
The Intex K2 inflatable kayak is an excellent entry point to the inflatable kayak market. At less than £200 it can comfortably seat two users. It comes with a removable skeg to help with steering and stability, two sets of paddles, a repair set, a pump and a cargo net for storage.
It's best suited for calm waters and will cope with a maximum user weight of 400lbs, which is the equivalent of two fully grown men. The seating is very comfortable and is a quality that goes beyond its price point.
Most comfortable inflatable kayak – Decathlon Itiwit Inflatable High-Pressure Drop Stitch Floor 3-Person Touring Kayak (£449.99)
If you're looking to spend a little more money in return for user comfort, you could do a lot worse than the Itiwit 3 person kayak. It's not the cheapest on the market but the seating quality is excellent, providing user comfort that exceeds the lower end of the market. The seating keeps the user in an upright position with good quality padding.
The Itiwit has a maximum weight capacity of 245kg (540lbs) and comes complete with kayak, bag, repair kit, three fins, user guide, inflation connector and strap. A pump isn't included, so make sure you buy one separately.
Best budget family inflatable kayak – ITIWIT 3 Man Inflatable Kayak (£299.99)
When you're buying a family boat you've got to consider a mixture of functionality and budget. There's also the user comfort and the requirement of a bit of storage space – everything you need for a family day out in the boat.
A great choice here is the Itwit 3 man inflatable kayak. It's solidly built, has excellent seating quality, will hold up to 230kg of weight and at nearly 4m long, it gives you plenty of space to stretch your legs comfortably. It comes complete with fins for smooth gliding and a useful carry case. You'll need to supply your own pump.
Best high performance inflatable kayak – BIC YAKKAIR Inflatable 3 Seat Canoe £1299.99
If your budget is on the larger side and you're looking for something that pushes the performance boundaries, the Bic Yakkair 3 is perfect. It boasts a long, streamlined profile for helping with smooth gliding through the water. This reduces the effort required to paddle, allowing you to cover more distance with less effort.
The Yakkair has three v-moulded seats for additional user comfort and can take a maximum weight of 250kg (550lbs), or three adult males. There are covered storage areas at the front and back of the boat, which will allow you to store food, drinks, phones and the like if you're intending to spend a few hours in the boat.
There are attached handles for helping to transport the boat and it comes complete with a bag to carry and store the boat in. Whilst it's more expensive than many others in the category, it's also a higher performance boat.
Best Inflatable Kayak 2021 – The Final Word
There's an excellent range of inflatable kayaks on the market, so you'll find something to suit your needs and budget. You can quite easily buy a couple of inflatable kayaks for less than the price of a rigid kayak and provide the whole family with plenty of fun in the process.
You'll open up the possibility of more fun on the water, you'll be able to hone your skills, discover a new hobby, teach your kids something new and have a lot more holiday fun.
The inflatable kayaks offer you all the fun of a rigid kayak, but at a lower price point and with a lot more in the way of convenience. They can be inflated and deflated in minutes and easily packed away and transported from home to holiday hassle-free.