Last updated on July 28th, 2020 at 01:54 pm
Still looking for last minute stocking fillers for a keen camper? Look no further… We've collated a list of our best stocking fillers for under £10.00!
Bottle Light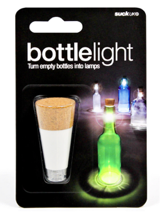 Price: £8.99 (Last Checked)
This is a great stocking filler for those who like to recycle! This is a light, shaped like a cork which fits into the top of a bottle, creating a gorgeous LED good and an inviting atmosphere, both indoors and out!
Super Bright LED Light
Internal Battery and USB Charger
Shaped like a cork, fits most bottles
2. Cutlery Clip Set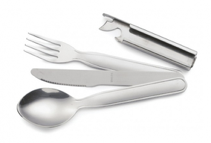 Price: £2.50
This handy tool is perfect for every activity, from camping, to boating, to festivals. It's compact, and can all be clipped together and kept in one place! It comes with a knife, fork, spoon and even a bottle opener – all the essentials, especially for festival season!
3. Seagull Windsock Spinner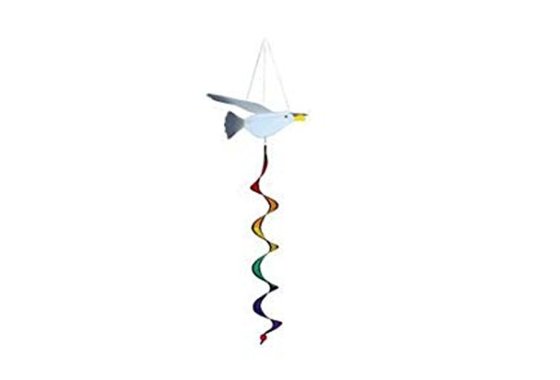 Price: £9.95
A fun and unique stocking filler – great for those who often lose their tent! Twists and rotates in the wind to make your tent one of a kind. Never lose it again! Features include:
Colourfast High Quality Polyester
Swivel Clip Included
Easy Set-up
Dimensions: 60cm x 110cm long
4. Quechua Polar Fleece Blanket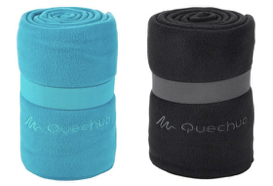 Price: £5.99 (Last Checked)
This blanket is certain to keep a camper cosy! This blanket has thermal insulation, in a soft-touch fleece design. It's perfect for camping or hiking! It includes a carry elastic strap and is machine washable.
5. LED Torch with Bottle Opener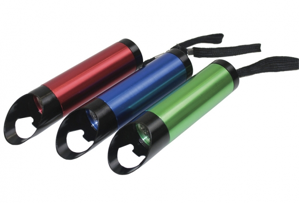 Price: £5.75
Know someone that likes a few beers around the campfire before they hit the hay? This LED Torch and bottle opener is a great gadget and perfect as a stocking filler. It's practical and pocket sized.
3 x AAA Batteries included
Handy Lanyard
Available in three different colours
6. Foldaway Dog Bowl with Karabiner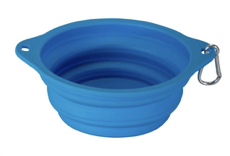 Price: £4.99 (Last Checked)
If someone can't travel without their furry companion, then they'll love this useful gift. A foldaway, lightweight dog bowl which is compact and ideal whenever they're away from home. You could even get this as a gift for your own pet!
7. Gelert Orienteering Compass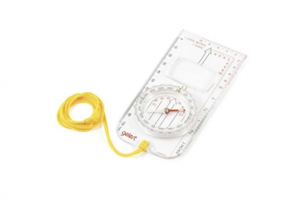 Price: £4.99
What camper doesn't love to get lost in the Great Outdoors? Help them to find their way back home with this orienteering compass. A great price to ensure a camper doesn't get lost! Features include the following…
Luminous dials for better visibility
Extra-Large magnifying lens
Durable Plastic
Lanyard included
8. VW Campervan Multi-Tool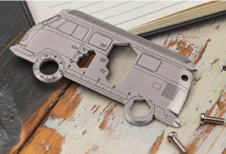 Price: £9.99
Volkswagen fans will adore this multi-tool. Its a great essential for all situations, and you never know when you'll need it! A great stocking filler for a great price.
9. Camping Micro Pillow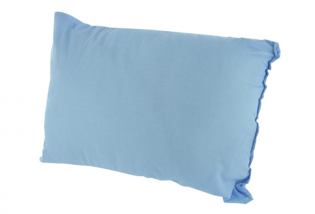 Price: £5.99
How can you go wrong with a comfortable pillow for a happy camper? The answer – you can't! Its compact and comfortable, and is great for a camper who is travelling around a lot. "Micro" is in the name!
Washable
Pack-size 22cm x 10cm
Lightweight and compact
Comes with it's own stuff-sac
10. Quechua Camping Rug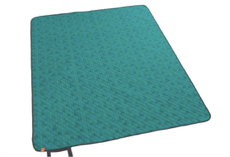 Price: £9.99 (Last Checked)
This rug will certainly make a camper feel at home. It provides insulation from the cold as well as some protection from damp ground. Makes a great stocking filler for a keen camper.
As you can see, there are plenty of gifts that can be purchased on a budget for a happy camper. You can also take a look at our 'Top Ten Christmas Gifts for a Camping Enthusiast' blog post for more inspiration!
Happy Camping!