What is a Selk Bag?
A Selk Bag is a wearable sleeping bag suit, similar to an onesie with arms, legs and a hood but manufactured with high quality insulating material. It is designed to withstand temperatures as low as minus nine degrees but to still allow movement and comfort as the product has all the factors of a traditional sleeping bag. With adjustable velcro straps around ankles and waist this allows you to walk around easily and safely and enjoy your freedom, whilst still being all tucked up - It's genius.
The original sleeping bag or 'camping onesie', the Selk'Bag is the real McCoy when it comes to sleeping bag suits. Described as revolutionary and innovative, the Selk'Bag (formerly Musuc Bag) is a great product that is not only stylish and vibrant, but is extremely versatile and durable too. You may think to yourself they look like a onesie but in reality that is borderline insulting! Whilst maintaining the fun, light hearted nature of a onesie they also pack the hard wearing and durability properties of a high quality sleeping bag.
As seen on ITV's This Morning Programme
Browse Our Range Of Selk'Bags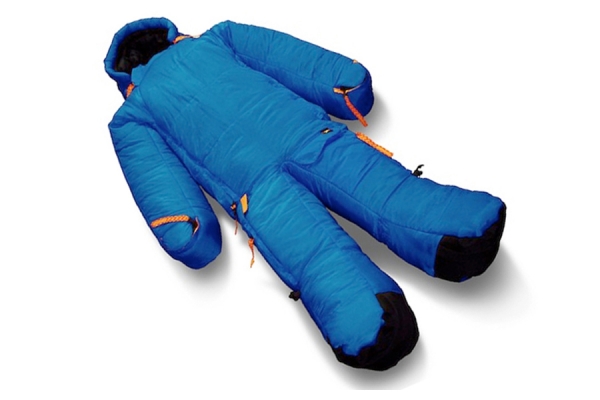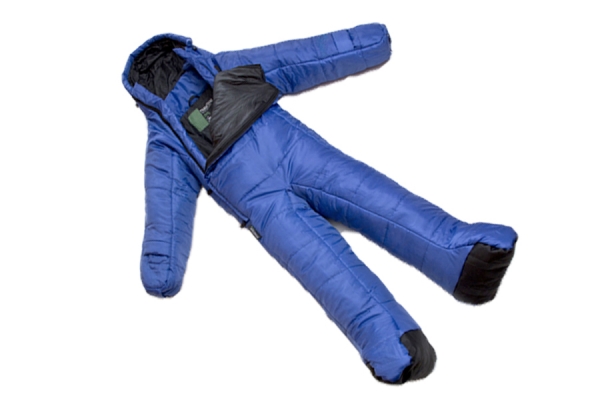 When would I use my SelkBag Sleeping Bag Suit?
The Suit is the ideal option to take with you whilst on a camping trip in the Great British outdoors. Perfect for keeping you cosy in your tent, you can keep warm throughout the night and even into the next morning whilst eating breakfast or popping out of your tent for a trip to the bathroom.
At a festival, not only will they provide you with the warmth and comfort for that well earned night's sleep but if you are venturing out of your tent to see your favourite band late at night, why not wear your Selk Bag? It's easy to walk in, will keep you toasty amongst the crowd and when you opt to return to your tent there's no faffing around, you can just lay your head down to catch your 40 winks.
The comfort of this fantastic idea also proves excellent for those lazy 'duvet days'. When you've not got much on, they are perfect for lounging around the house in and you don't have to sacrifice any comfort when you eventually rise to fix yourself up a snack. We're unsure whether or not they quite come under smart/casual dress code so perhaps showing up on Monday morning at work in a Selk'Bag isn't the best idea, but outside of the office you will struggle to find more comfortable lounge wear!
Are Selk'Bags just outdoor products?
Despite being a great outdoors product, they are also being marketed as something you can wear around the house. Think the wearability of a onesie combined with the warm and comfort features of a duvet.
To dismiss it as simply an outdoors camping product would ignore all of the other uses you may wish you use it for and its versatility really does act as one of its great strengths.
You can really can use it for multiple ocassions though we wouldn't let its overall like appearance fool you. You dont want to ruin it by wearing it to fix that oil leak on the car.
Its sensitive texture provides great care to the skin and is a product that will warm you up in no time at all. It could quite possibly be the outdoor product of it's time and really gives a feeling of being coccooned in your own little world. It's just your essential outdoor or indoor suit, no matter what you're up to.

SelkBag Essential Features
Adjustable Velcro Straps for a better fit and safety when walking
Ripstop Nylon fabric used with all Classics
Lite version - Ideal for warmer temperatures
Classic version - Perfect for colder climates -9 degrees
Patagon model features removeable feet
Internal pocket
Adjustable leg ventilation
Quick release hand system
FREE FESTIVAL FEET with every Selk'Bag Classic Order!
What options do I have with the Selk'Bag Sleep Suits?
The obvious choice for cooler temperatures is the Classic Version which can be worn when temperatures are as low as -9 Degrees and ideal for when you are chilling outdoors after the sun has gone down. The classic version will be your first stop if your looking for one to sleep in whilst camping, due to it's superior insulating properties.
Made from durable fabrics including a ripstop nylon shell and - like all SelkBags - featuring an insulated hood.
For Spring/Summer use the Lite Version as a good option for those who do not require as much insulation.
Made from lighter weight fabrics and with a comfort temperature level of 12 degrees it is perfect for every day camping and for wearing indoors. If you're looking to be a bit more frugal this winter and are wanting to save some money on energy bills, then why not get one of these and turn down the heating?
All in, these cozy and snug suits are made from the highest quality materials and feature comfort temperature limits.
Questions you might ask about the SelkBag
Is the Selk'Bag Waterproof?

No. The Selk'Bag is not a waterproof sleeping bag as this would compromise its breathability.
What About Going To The Toilet? Is There A Fly?

No. When visiting the toilet the Selk'Bag should be unzipped and pulled down.
How Do You Wash The Selk'Bag?
All Selk'Bags should be hand washed at 30 degrees celsius. (this is stated on the carry bag)


What is the Selk'Bag Sleep Suit made from?
These fun and funky Sleeping Bag Suits have had great reviews because they're also made from all the best materials meaning whilst it keeps you warm and comfortable during even the harshest of temperatures, it still allows you to breathe with its light textures. Another great aspect is that the product is unisex and comes in a range of sizes and weights to suit differing body shapes. The 'bouncy' nature to the material may have you feeling a bit like you are in a spacesuit but trust us, this product is out of this world!
Where did the SelkBag name originate?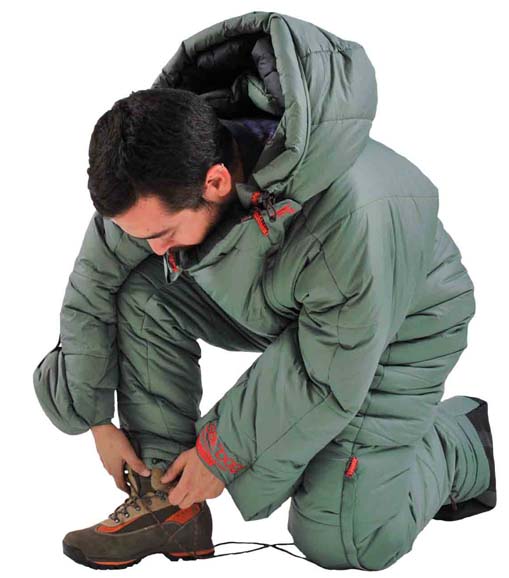 The Selk'nam (as they named themselves, which means "men") were nomad who lived in Chilean's Austral Extreme, also known as Land of Smokes and finally as Tierra del Fuego (Land of FIRE), due to the numerous bonfires the natives lit at night and which conquerors could see from open seas.
Hunters and collectors, were characterised by their height (1,80 mts. average), physical strength and toughness to adapt to the most hostile environments with below 0 degrees. They silently resisted cold, fatigue, hunger and thirst. These characteristics made them win European respect, as well as their enemies and neighbours' fear.
Selk'ams were highly concerned of their personal presentation. Any chance was a good one to paint their bodies and face. A great moment were the Hain ceremonies (initiation ceremonies), in which male teenagers passed onto adulthood, after numerous and long mental and physical tests. These ceremonies were highly secret meetings organized by men who simulated universal spirits, with defined figures and personalities. They supposed some emerged from the depth of earth and others from the sky. With help of guanaco skin masks or tree crusts, paint all over their bodies and other elements, they could disfigure with huge success the natural condition of these "actors". At the end of the XIXth century, a man who studied Selk'nams, said that once he saw a naked man in the middle of the snow, and he asked him how come he wasn't cold, that people should only leave their face uncovered. The Selk'nam answered: "I am all face".
This aesthetic essence, their resistance to the most adverse weather conditions, and the freedom nomads represent, have been the main concept pillars for this product's image.

Want to see a SelkBag on the move? Watch the video above.