Wash Bag Features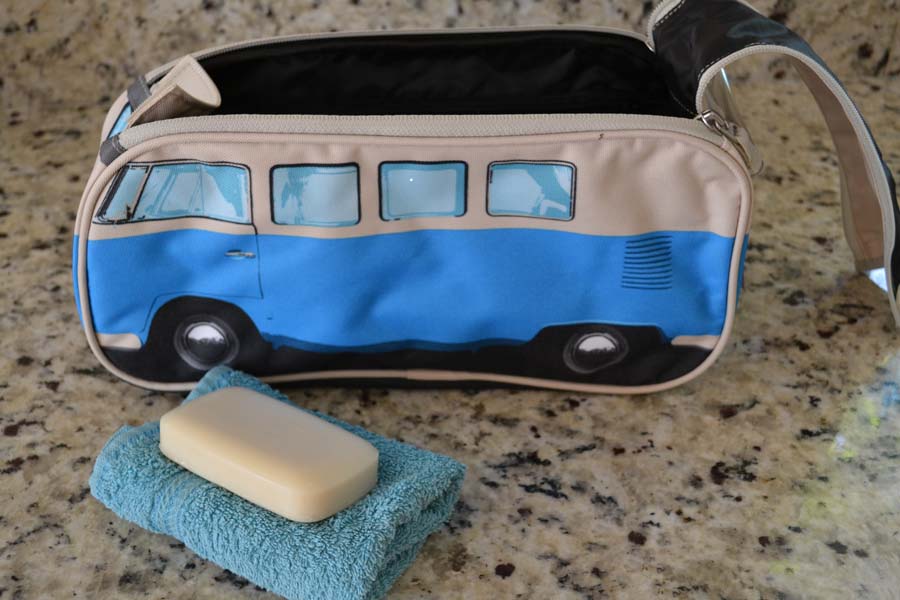 Want to see all the great features to this wash bag in one place? We thought so. Passionate campers from our very own website have put this list together for you.
Made from durable Polyester and Polyamide
Waterproof lined
Handy carry handle
Double zips
Zipped internal pocket
One elasticated pocket
Worried about whether this VW Beetle wash bag is going to fit in your luggage? Worry no more. These dimensions mean you'll have no trouble, no matter if you're travelling abroad or filling a bag for your next festival.
VW Campervan Wash Bag
Dimensions:
Length - 32cm
Height - 15cm
Width - 12cm
VW Beetle Wash Bag
Dimensions:
Length: 30cm
Width: 12cm
Height: 15cm
London Underground Tube Wash Bag
Dimensions:
Length -32cm
Width -13cm
Height -14cm Approx
VW Campervan Wash Bag
Do you dream of having your own VW campervan? Or do you just love yours so much that you need everything in life to look like it too? We don't blame you. Either way - we've got your ideal gift and this is not to be missed. The Volkswagen Campervan Wash Bag is one of our quirkiest, most well-loved novelty products and we can't get enough of it!
Officially licensed Volkswagen product
Here to make your hippy, freedom-loving dreams a reality - this novelty wash bag is based on the iconic, legendary vehicle that is the VW camper van. It's even been officially licensed and approved by Volkswagen itself, so that obviously means it's practically like owning the real thing. At least, that's how we like to think of it anyway. Hippies of years past would be happy to know that you're keeping the legacy going!
Drive your wash kit in style
Maybe you don't fit in it yourself, but this wash bag is ideal for transporting your products across the globe wherever you go – so that's a bonus. Its handy features include inside elasticated pockets, a handy wrist strap and durable double-lined finish - making it the ideal compact accessory, with all the style of the retro 1960s, and that's probably why it is one of the most popular novelty accessories we offer! This truly is an iconic, retro look.

VW Beetle Wash Bag - Orange
Attention to all Volkswagen Beetle fans (we know you are out there!) We have got a good feeling you're just going to LOVE the latest addition to Planet Camping!
New from the Monster Factory, this funky, bright orange Volkswagen Beetle wash bag is great for all you love bug fans. It has got the style of the car, without the price tag, and can literally go wherever you go! What more could you want from your latest VW Beetle toy?
VW Beetle Wash Bag: Lasts for many adventures!
Made from the same durable Polyamide and Polyester fabrics as used with the iconic, VW Camper Van Wash Bags, you are guaranteed that these novelty wash bags are ready for an adventure. Whether you are heading out to a festival, need somewhere to keep cosmetics while you're camping or just having this in your bathroom to brighten things up, this wash bag will stand the test of time.
Let's face it, this novelty VW Beetle wash bag would look great in anyone's bathroom – in fact, we think it's the perfect addition.
Great novel storage features
With double zips, the roof of the Beetle can be pulled back and all your essentials can be stored away inside. You can just imagine that you are in an actual VW Beetle, with the roof down in the sunshine – not a bad thought for a grey day, and a good alternative until you can get the real thing!
The VW Wash Bag also has one zipped internal pocket and one elasticated pocket too, making it extremely compact so you can fit everything you need in for your daily routines – whether you are staying in or heading out for the whole weekend. It also means you can keep you belongings secure while you travel about.
London Underground Tube Wash Bag
Keep all your toiletries in this funky washbag modelled and shaped on the Northern Line Tube Train. Perfect novelty gift for any age including the keen train enthusiast ot tourist.
Its durable nature and handy carrying handle also means it's great if you are braving the showers at a festival event this summer. This Wash Bag really is ideal for a whole manner of situations.
Mind the Gap on the Northern Line
You will soon find that when you are on the move, there is nothing more convenient than this product from the Monster Factory. The London Underground Tube Wash Bag has a handy carrying handle and an extra, reliable Velcro strap for added security – so you won't be losing your cosmetics in the bottom of your bag while you're travelling.
Generously sized with three internal pockets and a double entry zip for ease of opening.