Sleeping bags
The search for ideal camping gear for your next trip can seem a daunting task, especially if you're a first time camper. That's why Planet Camping has put this buying guide together.
Here you'll find some of the best rated sleeping bags on the market, with features listed so you can decide what most suits you.
Types of Sleeping Bag
Sleeping kit comes in a range of shapes and sizes, so which one do you need? Below you'll find descriptions explaining the benefits of each popular style.
Mummy

These are one of the most popular shapes on the market and with good reason too. Whether you're looking for summer, winter or even expedition kit for sub-zero temperatures then mummies will always perform well.
Designed to provide optimum warmth, by hugging close to your body, its shape gets smaller towards your feet - reducing the amount of space for heat to escape. This makes it ideal for camping in harsh temperatures. If you're off on an extreme trek, highly insulated bags are an investment - you can be sure to get value for money when looking at our options.
Square

Square sleeping bags are particular popular for one reason – and that's the sheer amount of space they provide as well as versitility. This style isn't so close to your body, you just have more space to wriggle about and if needs be can be used as blankets and throws.
A popular choice for our customers has always been the Bill Brown Sleeping Bags as these are made from organic cotton and are available in various colours.
This is great for spring, summer and autumn, but what about the winter? Although it is widely rumoured that these aren't as warm, many manufacturers are upping their game as far as insulation goes, so you'll be alright in the UK winter too. For sub-zero temperatures we'd still recommend 'mummy' versions though.
Pods
You'll notice that pod bags are similar in shape to the mummy version – but there are differences here. The Gelert Curve Sleeping Bag/Pod is one of the newest on the market, coming with an easy roll-up design and built-in stuff sac. Ideal for festivals and summer camping, these vibrant, affordable designs are contemporary while also offering the cosy comfort that is necessary for an outdoor trip. These are also ideal for sleepovers too.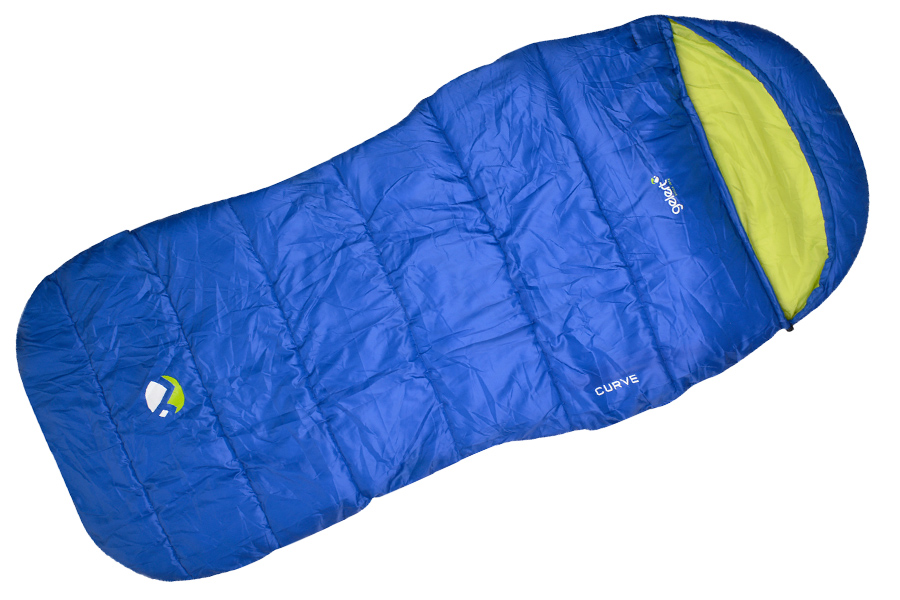 Kids
When you're making the most of your camping adventure, we know you want your little ones to be as warm as possible – that's why we provide a range of children's sleeping bags. Kids' options include the mummy for the colder temperatures, square variant for cooler comfort and totally funky options that the kids are just going to love like the Highlander Kids versions with 'rucksack style' Stuff Sacs that they can throw over their shoulders for journeys and sleepovers. The junior bags aren't the only available option either; kids' sleeping suits give the children cosy walking options too – which are great alternatives if they need something to run around the camp site in too.
Double sleeping bags guide
Heading out for a couples camping weekend? Then you should be considering a double sleeping bag. One of the best ways of staying warm is by sharing body heat, and this shape doesn't disrupt your normal sleep pattern if you're used to sleeping together.
These are ideal for UK camping during the summer or autumn months, or in places with similar climates. However, if you're headed for extremely cold temperatures, we'd always suggest checking out the mummy sleeping bag section, as that's how you're going to stay warmest.
Cheap sleeping bag options
We pride ourselves on offering great value for money on all shapes and styles – you'll find cheap sleeping bag options in our mummy, square and pod sections. Off on an adventure? Check out our mummy section for lightweight options, and our pod style for easy-rolling and that built-in stuff sac!
Festival Recommendations
Bargain, pod bags are ideal for the festival season – with their quirky design and built-in stuff sac. Or check out our sleep suits section for a funky, wearable alternative.
Which sleeping bag is right for you? Which one is right for your next camping trip? Here's what you need to consider.
They come in many different shapes, sizes and weight these days, and people can often lose sight of the most important factors when choosing a product that will best suit their circumstances.
Sleeping bags for all occasions
If you are a seasoned camper and like to be in the outdoors when the weather is at its coldest, you will require the highest quality of product available in terms of performance and comfort rating. For the specialist Hiker we have lightweight Sleeping Bags that pack up small but not without high tech features.
However, if they are only to be used in a house as an alternative sleeping arrangement for guests, you will only need to look at the lower end of our range and a perfect example of this is the Essential range of Mummy or Square Bags.
Technical need to know guide
What do comfort/temperature ratings mean? Temperature ratings might sound confusing, but it's easy once you know it.
Camping in the Summer, Spring and Autumn: If you're camping in the summer, we advise on getting a '1 season' version. Alternatively, if you want to camp out in spring and autumn too then go for the '2 season' or '3 season' sleeping bag.
Camping in the Winter season: If you're braving the winter months then always go for a 4 season sleeping bag or a 5 season sleeping bag, to ensure you have the necessary insulation to keep you cosy.
The optimum size and weight for you: If you need kit for a new backpacking adventure or trek then you're going to need an ultralight sleeping bag, and you'll want it to squeeze nicely in that rucksack too. Check out the weight of our models in the item descriptions.
The right fabric for you: From cotton shell to fleece and separate sleeping bag liners – it all depends on what you find most comfortable. Check out the each product's details to choose what you prefer.
Your insulation options: Synthetic and down filled sleeping bags are guaranteed to keep you cosy – you'll find both options in each shape's section.
Additional camping features needed: Looking for additional features which add warmth and practicality? Look out for neck baffles, zip baffles and size zipper sleeping bags. You can even add silk or cotton liners for extra warmth!
Sleeping bag care: If you're going to buy one then you want to make sure that they last! For this reason you should always check out individual care instructions and how to best store them too. Washing synthetic bags can vary to washing cotton versions – so be sure to take a look.
Alternative night time comport options: Are you up for trying a more current, alternative option? Take a look at the sleeping bag suits, duvet suits and boe suits for walkable, warm options too. We think you'll find they're ideal for extreme temperatures, fashionable festival looks and cosy nights in too.
Buying for hiking? The materials and fillings need to be considered when deciding on which Sleeping Bag to buy. For hiking we recommend a bag that packs down small would be desired like the Snugpack Chrysalis range as it is manufactured using synthetic fabrics and today many of these are made from high tech materials.
Here at Planet Camping you can find a great variety from the budget conscious buyer to the top of the range suits.