Innovative and Novelty Camping Equipment with Next day delivery available.
A very warm welcome to planetcamping.co.uk, the UK''s leading supplier of innovative camping equipment and outdoor accessories - delivered to you in the quickest time around. Whether its a Sleeping Bag Suit, Tent or something in the Water Sports line we are sure to have it in stock. We''re committed to giving you an enjoyable and reliable experience so that you''ll return to us and tell your friends about us.
Minimum spend of £20 gets you free delivery!
NEW Lower Shipping Rates for Overseas Deliveries!
Camping Equipment
Practical and fun camping accessories are bound to improve your next camping trip. We feature options including camp kitchen essentials like camping cookware, top camping gadgets like solar radios and wind up torches, as well as practical outdoor kit like folding camping tablets, roll up beds and hiking rucksacks.
Honestly, our list of camping stuff is almost endless because we want you to be totally prepared for your next outdoor adventure. If you''re unsure about exactly what you need, you can even check out our ''Definitive Camping Checklist'' - it tells you exactly what you require to be completely prepared.
Our Sleeping Bags
Finding the right camping gear is essential before your next outdoor trip, and we''ve got some of the best sleeping bags on the market right here. Whether you''re after the traditional mummy sleeping bag or something slightly different - like a square sleeping bag or even a double sleeping bag for both of you to curl up in - we have a multitude of options for adults, kids and juniors.
Here at Planet Camping we aim to offer some of the most modern and uniquely designed sleeping bags on the market today. Fabric Technology continues to leap forward and allow materials for insulation but light weight to continually improve.
Tents For Camping
Tents come in so many different shapes and sizes, and here at Planet Camping we want to offer you as much variety as physically possible. From camping pop up tents, to novelty VW camper tents, festival tents, blow up tents and great value family camping tents - we know you''ll find exactly what you need here.
You can even choose your tent based on your next outdoor adventure - our ''Complete Camping Guide'' explains great features included with each camping tent style, so you can decide so you can decide whether its trekking, weekend breaks or just family holidays there will be a tent ready to pitch somewhere!
Sleeping Bag Suits
For a long time now, Planet Camping has been the leading supplier of the Selk bag (previously Musuc Bag) which is our flagship product and available in 3 different seasonal specifications depending on your requirements. Whether you are trekking in the mountains, cosying on the sofa or simply desire to be the coolest cat at a music festival - we have the SelkBag or Motion Sac for you.
These quirky new sleeping suits are the ultimate must-have camping product of the year and you need to check them out. They''re adult onesies with hoods, sleeping bags with legs, wearable sleeping bags - whatever you want to call them, they essentially give you the freedom to walk around surrounded by the warmth and cosiness of the sleeping bag and we have all the colours. What more could you possibly want?
Inflatable Kayaks & Electric Scooters
Camping doesn''t just have to be about spending all your time in the tent and deciding on which camping equipment to take - it''s about getting outdoors and experiencing all that fresh air. We''ve got some alternative ideas on how you can spend your time too.
Check out our new inflatable kayaks for fishing or just generally enjoying a little time out on the water. These blow up kayaks come with a pump and paddles too - take a look at the Sevylor Adventure Kit if you want to head out completely prepared!
That''s not all we have to offer either - electric scooters for kids are the must-have outdoor children''s product of the year, and we''ve got them here for a range of ages.
Festival Camping Essentials
We love the festival season - who doesn''t?! But it is hard to know exactly what to take for your next festival camping experience, especially if this is your first ever time at one of these incredible events.
That''s why Planet Camping has a dedicated ''Festival Gear'' section on the site, it tells you everything you need to feature on your festival essentials list, and offers a few fun camping gadgets too. From funky festival tents, to the best festival sleeping bags and all the other festival camping accessories you need to enjoy your exciting stay - you''ll be heading out to your next festival camping weekend completely prepared.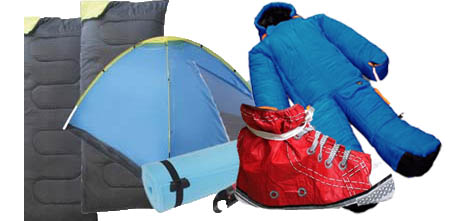 Camping Bundle Offers
''What''s a camping bundle'', you ask? It''s simply really - camping bundle offers put ultimate camping equipment together, at a totally fixed price, so that you get more for your money. And yes, it really is as good as it sounds. Basically, you can get some bargain prices on camping essentials here.
We offer some great savings on camping equipment bundles featuring festival tents, MusucBag sleeping suits and ultralight sleeping bags amongst other things - and we''ve even created festival bundles, novelty VW camper van bundles, and hiking backpack bundles so that you have everything you need for those fitting occasions.