VW Campervan Sleeping Bag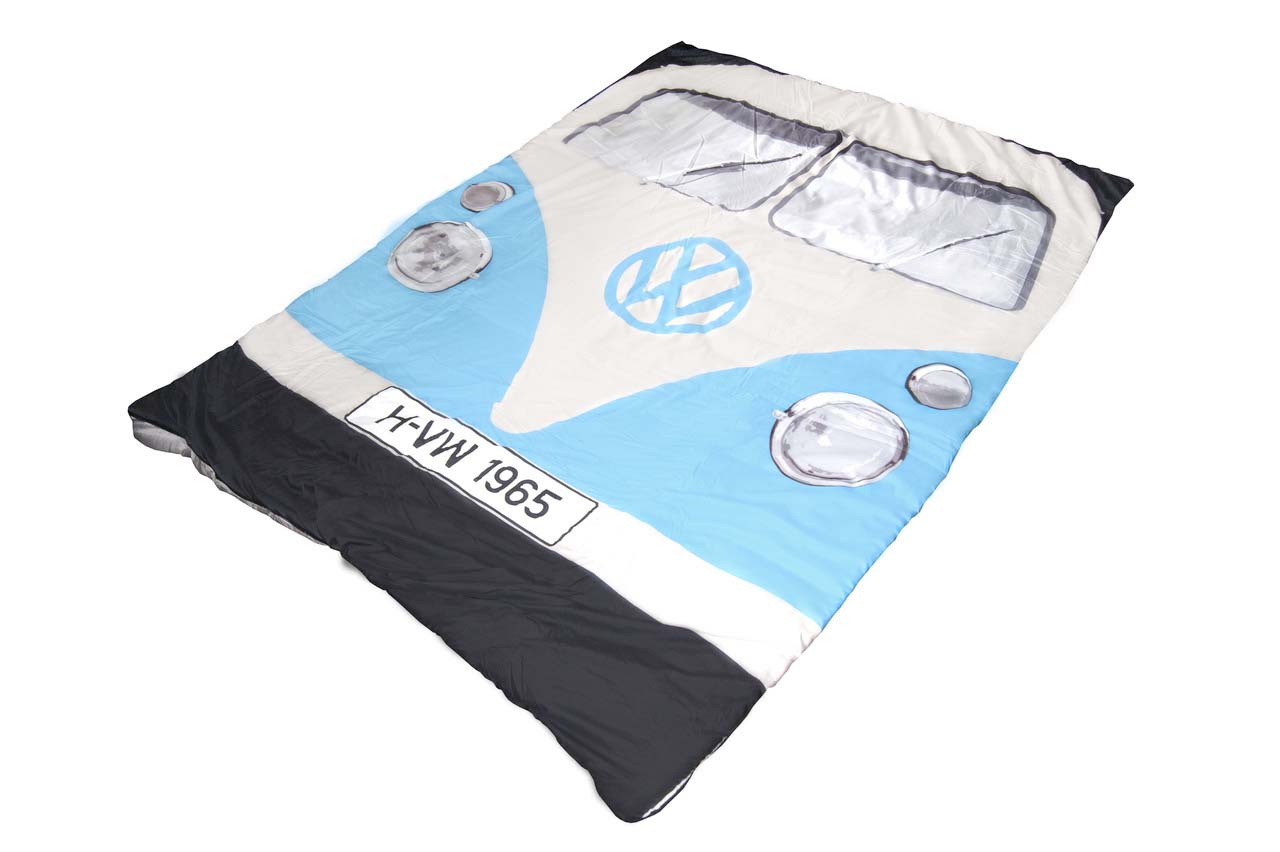 Specifications
Check out the full VW camper van sleeping bag specifications below – if the fit's right, then this is an absolute must-have for any VW campervan fans!
Dimensions: 200 x 75cm
Season 3
Thermal Fill 300 gsm
Made from 100% Polyester
Stuff sac included with carry handle

New in for this year is this stylish VW Campervan Square Sleeping Bag, based on the iconic 1960's VW Campervan with split windscreen. This really is an absolute must-have for all big time campervan fans and hippy lovers, especially if you're heading to any VW campervan rallies this summer – what better way to let people know how big a fan you really are?!
VW Sleeping Bag: Ideal for a range of situations
While this VW Campervan Sleeping Bag is designed as just that, it can also be opened up and used as a double blanket or throw. In fact, doing just that really does show off the full campervan design with great effect. This makes it perfect for your summer camping trip, as well as sunny events like festivals and days out.
Perfect festival gear
You will be the envy of all your camping pals and other festival goers when they spot your VW Campervan Sleeping Bag. Especially when they see you lying out in the sun on it, in its full glory. Why not have a look at our matching VW Campervan accessories including VW Wash Bags and the iconic VW Campervan Tent too, to really complete the set.
Finding your tent at the end of a long festival day will be easier than ever before if you get the VW Campervan Wind Sock too for those who are extra enthusiastic about the campervan trends. There's nothing more annoying than not being able to find your tent after a long day of dancing, after all. Let out your inner hippy and go for the whole set this summer!
Suitable for spring, summer and autumn camping!
You're guaranteed to be super warm in your VW Sleeping Bag too, thanks to its 3 season rating. Being a Season 3 Sleeping Bag, it can actually be used for the best part of the year without worrying about any chilly nights – that means spring, summer and autumn are covered! We'd recommend checking out some of our more hard-core sleeping bags if you're looking for something to keep you warm in the winter months or on extreme trekking holidays.
Practical and compact
The included stuff sac with carry handle actually makes this VW campervan sleeping bag very easy to transport too! At a size of just 200cm x 75cm it's suitable for a range of heights, yet can be rolled down into the sac – just perfect for festivals, camping holidays and time away in the campervan.
This means it won't take up much room when you're packing your camping kit into the car for your next adventure. Essentially, this is a compact, funky, fun VW campervan sleeping bag does everything it says on the tin – and we just love it.
You might also like: