Treksta Jotunheim GTX Waterproof Boot
FREE NEXT WORKING DAY DELIVERY
On this product to UK Mainland
Order by 12PM tomorrow and get it Monday 22nd January
Product Specifications
Upper – Gort-tex Extended Comfort Footwear
Waterproof Oily Nubuck Leather and Oily Split Suede
Rubber Band Toe Cap

Sole Construction
Mid Sole Moulded EVA / N2 Moulded Tech Board
Outsole Hypergrip HGNS-01 with IceLock
Inner Moulded EVA / Cambrelle Textile
Colour Dark Brown


Weight 630g (size 8)
The Leather Jotunheim GTX is the serious boot from the Treksta boot hiking range. With Gore-Tex waterproofing the feet stay dry and breathe freely. The foot is fully supported with the NestFIT design and high cuff. Feet are secure on all terrain and in all conditions with the Hypergrip outer sole featuring the Ice lock technology. Outdoors Magic placed the Treksta Jotunheim GTX as one of the best-3-season-walking-boots for 2016
Ultimate Hiking Boot from the Treksta range
In extreme weathers and conditions you want a boot that provides ultimate comfort while cradling the foot in its most natural barefoot way without restricting it. Treksta have continually researched to improve the mould of the shoe to mirror the contours of the foot, this new unique NestFIT technology guarantees this.
Durable Gore-Tex Waterproofness and breathability
Engineered with Gore-tex fabric the Jotunheim GTX boot will not let you down during unpredictable climates. The Gore-tex fabric is cleverly constructed to allow the foot to breathe and the water to stay out.
Wear Jotunheim GTX on all terrains
Optimum stability is essential when walking or climbing over uneven ground including rocks and stones. With the revolutionary Hypergrip sole incorporating the Ice-Lock technology extra traction is provided to minimise the risk of slipping on ice or wet surfaces.
Treksta Protecting the foot
While you need ultimate comfort and dry feet while walking or hiking in the hills you also need extra protection from the rough terrain, the Jotunheim GTX boot has an extra reinforced rubber band toe cap to allow for this. While we are talking about walking in the hills you might find the Telegraph's latest 10 Best British hikes page a useful guide.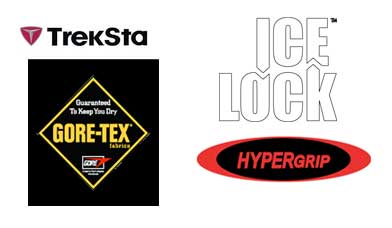 Jotunheim GTX Features
Nubuck Leather Oily split suede
Gore-tex waterproof-breathable membrane
NestFIT system to cradle foot
Lightweight sole and mid sole
Reinforced full length shank between the insole and midsole
Moulded leather heel system for extra support
Hypergrip Sole incorporating IceLock Technology


Customer Reviews
Delivery & Returns Information
» Click here to read full details about our delivery, including times & prices