Kids Selk'Bags
FREE DELIVERY

Included
Order by 12PM For Delivery Tomorrow
Please select from the following options:
Kids Selk'Bag (MusucBag) Sleeping Bag Suit
Do you want the essential camping accessory for your little adventurer? Then the Kids Selk Bag Sleeping Bag Suit is not to be missed.
It's fun, it's practical and incredibly safe for your kids - but what is it? Check out the details here.
Selkbag provides optimum sleeping comfort for children
If you haven't heard of Selk'Bag before, it's a brand that creates sleeping bag suits for adults and kids which leave your arms and legs free - so you can sleep (and explore) in whatever position suits you most.
The kids' Musucbag version is no exception - and with new, more comfortable fabric used and elasticised hood pulls for added warmth creating a seriously high-quality product, your kids are going to love this.
SelkBag: Safety first for Kid's Selk Bags
So that you're little camper doesn't run into any accidents, SelkBag has put some safety measures in place in their Musucbag for kids version.
The Kids SelkBag comes with rubberised canvas feet and ankle ties - so that there's no falling over if they're walking or running around in it.
There's also 'Kangaroo' pockets by the leg and torso, so that you can store you valuables away safely for the night. Or maybe just so that their favourite toy has somewhere to sleep too.
Musucbag / Selkbag kids: Night time lullabies
What's the soundtrack to your kid's summer? The SelkBag actually lets them take it with them - featuring extra pockets by the neck ready for an MP3 player.
This could be a great outdoors solution if they're finding it hard to sleep as well.
Where can you take your kids Selkbag?
Want the short answer? You can take this pretty much anywhere.
It's great for camping, campervanning, sleepovers or even for just keeping them warm around the house in those cold British winter months! Whatever the occasion, the kids Musucbag by SelkBag is great for the British in or outdoors.
Product Specifications
Musucbag / Selk'bag: The finer details!
Weight: 1.42kg
It's stuffed with: Hollow Fibre Bonded
Its coat is made from: Polyester Taffeta
It's lined with: Polyester Diamond
The optimum temperature: It's really comfortable at around 7 degrees, but can handle up to -13 degrees. Somehow, and we think you'll agree here, we always recommend sticking to the comfortable temperature levels more though.
Ready to get your kids Musucbag by SelkBag? Just pick the right size and get packing for that adventure, the only difference between the two is size.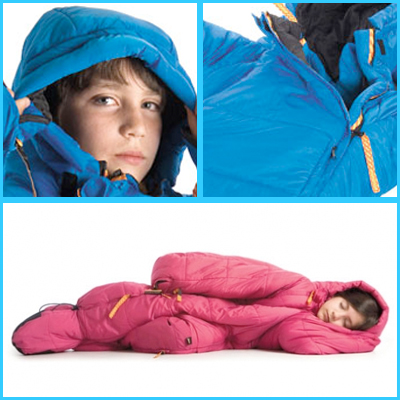 What Size should you get?
K1 is suitable for kids between 3ft 9 inches and 4ft 6 inches,
K2 is ideal for those 4ft 7 to 5ft little ones!
We would always recommend going for the bigger size if your kid is somewhere in the middle.
The Kids Selk Bags are available in three colours, Blue, Pink and Yellow
Customer Reviews
Service rating : Excellent
Product: Bigger than expected but will grow into them. Excellent product.
Service rating : Took a little longer to arrive than expected.
Product: Very toastie
Service rating : Very good website, efficient and prompt service
Product: Bought the k2 for my 10yr old boy who has worn it continuously for the past week! Lovely blue colour with orange features and good extras like pockets and hand holes.
Payment, Delivery & Returns Information

» Click here to read full details about our delivery, including times & prices
You might also like: