SelkBag Classic Sleep Suits
FREE DELIVERY

Included
Order by 12PM For Delivery Tomorrow
Please select from the following options:
Get this freebie when you buy this item:
Festival Feet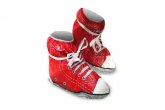 Promo Price with this item : FREE
Selk'Bag Classic Sleeping Bag Suit
The Selk'Bag Classic 4G is a Sleeping Bag Suit with arms and legs. The Classic version of the SelkBag is made from durable fabrics, because it's built for the outdoors.
It has optional extra leg ventilation to keep you cool at night, an insulated collar and cord lock for extra warmth and even a little check storage pocket so that you can literally keep your valuable close to your heart.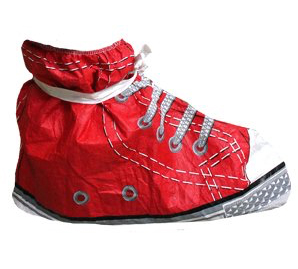 FREE pair of Festival Feet with every Selk Bag Classic order!
The Classic is now built with a more durable fabric called Ripstop nylon on the outer cover, it has Velcro around the ankles providing extra comfort and ease while walking and your waist - so you can get that optimum fit for total warmth and comfort. You'll find a new quick release Velcro system for your hands too - which is perfect for a night of sitting outside by the BBQ.
You can sleep in it, you can walk around it in, you can run around in it or just sit in it around the campfire.
Basically, whether you're using this suit for the outdoors or just to wrap up warm to save on heating costs and your environmental impact in the winter - this is ideal.
This suit was previously known as the Musuc Bag Classic before a rebrand in 2014 to the current name.
The Perfect Wearable Sleeping Bag Suit
Selk Bag Classic sleeping suit is actually perfect for all occasions, whether you're heading to a festival, camping trip, fishing, sitting on your boat or just fancy lounging around the house in it during the colder months.
Colours Available
Yellow
Black
Berry
Blue
Grape
How Warm Is The Classic Selk Bag?
This Classic can withstand temperatures of down to -9 degrees Celsius - so as far as the British outdoors goes, we've got you covered.
It's 'comfort temperature' is 9 degrees too, so that's perfect for summer nights when the temperature just dips down with the sun.
Features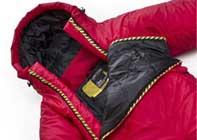 The double front opening is a useful feature enabling ease of entry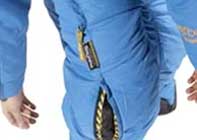 Control temperature with leg zipped ventilation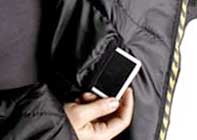 Internal Security Pocket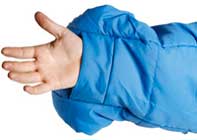 Handy quick release and entry for cold or hot hands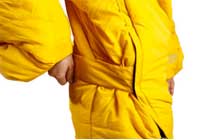 Adjust the size around the hips for a better fit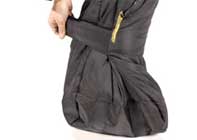 No falling over with these reinforced velcro straps to tighten around the ankles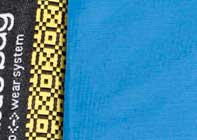 Outer shell of SelkBag Classic made from durable Ripstop Nylon incorporating reinforced threads preventing tears to fabric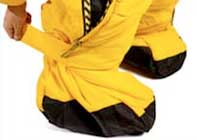 Reinforced Soles with grips for extra comfort while walking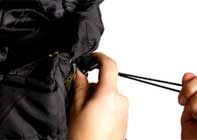 Extra warmth is provided for the neck with adjustable toggle and 3D collar and insulated hood.
Product Specifications
This Classic Version (SelkBag Classic) actually comes in three size options, so there's something for everyone. Take a look at our guidelines below to decide which size you need. These sizes are a guideline for people of average weight.
Body Height
These are the sizes SelkBag recommend you choose:
Body Height
SelkBag

Medium
156 cm – 169 cm
5 ft 1 in – 5 ft 6 in
Large
170 cm – 184 cm
5 ft 7 in – 6 ft 0 in
X Large
185 cm – 202 cm
6 ft 1 in – 6 ft 8 in
Girth Measurements
Large 127 cm (50 inches)
Extra Large 135 cm (53 inches)
Bear in mind that if you're a man who's unsure what size to get, we always recommend you go larger, whereas if you're a woman who's unsure on sizing, always pick the smaller option.
Don't forget a larger fit will provide a better sleeping experience and a tighter fit will be more practical for walking in.
What Materials Are The Selk'Bag Classic Made Of?
It's stuffed with: A Hollow Fibre Bonded Material
It's coated with: Ripstop Nylon 300T
It's lined with: Polyester Diamond 50D
Colours Available are Yellow, Black, Berry, Blue and Grape
Pack Weight: Approx 2 kg
Looking After Your Sleep Suit
Hand wash or Machine Wash at 30 degrees centigrade (max)
Tumble Dry using a cool cycle (max 30C)
Do not iron
When washing do not mix with dark colours
Do not use bleach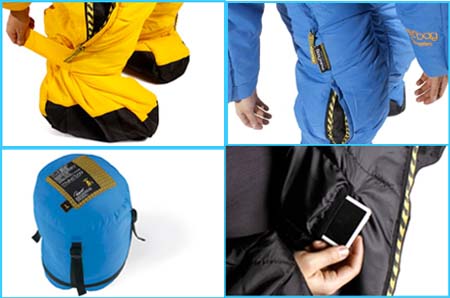 Payment, Delivery & Returns Information

» Click here to read full details about our delivery, including times & prices
You might also like: