Outwell Montana 6 Family Tent
FREE NEXT WORKING DAY DELIVERY
On this product to UK Mainland
Order by 12PM Monday and get it Tuesday 23rd July
Features:
Canopy extends with available pitching options for extra shelter and privacy.
Rain Safe front door for extra protection from driving wind and rain.
Large windows with toggle up Curtains.
Side Porch area for storage of wet clothes and detachable bathtub groundsheet.
Doors fully meshed.
Front door and groundsheet can be zipped together to keep out wind and rain.
Spacious living area.
Fully seam - sealed flysheet for ultra protection.
Specifications
Three room tunnel tent
Sleeps - 6 people
Rooms - 1 living, 2 bedrooms
Pitching way - Flysheet first or as one
Flysheet - Outtex 4000 with taped seams
Floor - Double coated 100% polyethylene, 10.000mm hydrostatic head
Inner tent - Breathable Polyester
Pack size - 37 x 82cm
Weight 30.8 Kg
Poles - Steel poles 19 mm, duratec fibreglass 8.5/11.0/12.7 mm
Outwell Montana 6E Accessories
The Outwell Montana 6E accessories include a lamp holder, organiser pockets, pre-attached luminous guylines, and adjustable pegging points. A reinforcement patch is added to all stress points for improved durability in a variety of weather conditions. Also among the Outwell Montana 6E accessories is a highly useful doormat to keep the interiors dry and clean. There are also mesh pockets in the inner tents for smaller items that are easily misplaced. Light cable tidies are provided to keep cables out of the way and prevent accidental falls. One of the most useful Outwell Montana 6E 6 Man Family Tent accessories is the side porch, where wet clothes can be stored. The porch area also has a detachable ground sheet for a bathtub to aid cleaning and ensure the tent is protected. Like all Outwell Tents the Outwell Montana 6E 6 Man Family Tent 2018 version comes with instructions.

The Outwell Montana 6, 6 Man Family Tent forms part of Outwell's Deluxe Collection, which is particularly marketed to families and has been very successful over the years. Since this tent can sleep between four and seven individuals, it is very popular with large groups that wish to sleep under the same "roof" while out camping. The award-winning Three Room Tunnel Outwell Montana 6E 6 Man Family Tent is known for its style, technical innovation, and attention to detail. It is constantly updated for both style and function. The 6 Man Family Tent Montana 6 by Outwell is the 2018 version and serves up a new color option as well as introduces the Outwell Extended Canopy System. The latter is a large front-facing canopy that offers up to four pitching styles, allowing flexible protection from the rain or sunlight. The striped design has been continued in this line of tents. If you love a front panoramic view you might be interested having a look at the Montana 6P from the premium range
Outwell Montana 6E 6 Man Tent Features
This entire Deluxe Collection range of the Outwell Montana 6E 6 Man Family Tent features awnings and options to extend the living space, which has a sealed-in groundsheet. Up to six people can sleep in the tent's two bedrooms. There are two side doors, and one of them has an enclosed porch. The Outwell Montana 6E also features a rain-safe front door. The large windows on the Outwell Montana features toggle-up curtains for added privacy, and the front door and ground sheet can be zipped together for a good protective seal against the rain, wind, and surprise intruders. Pitching the Outwell Montana 6 Man Family Tent 2018 version is made easier with the pre-attached and adjustable inner tents. The flysheet on the tent is made of Outtex 4000. All of the old Outwell Montana 6E features are still to be found on the latest version of the tent, including the Outwell Easy Pegging System, which allows for easy, quick pitching, and the Outwell Wind Stabilizer System, which keeps the tent stable in the wind.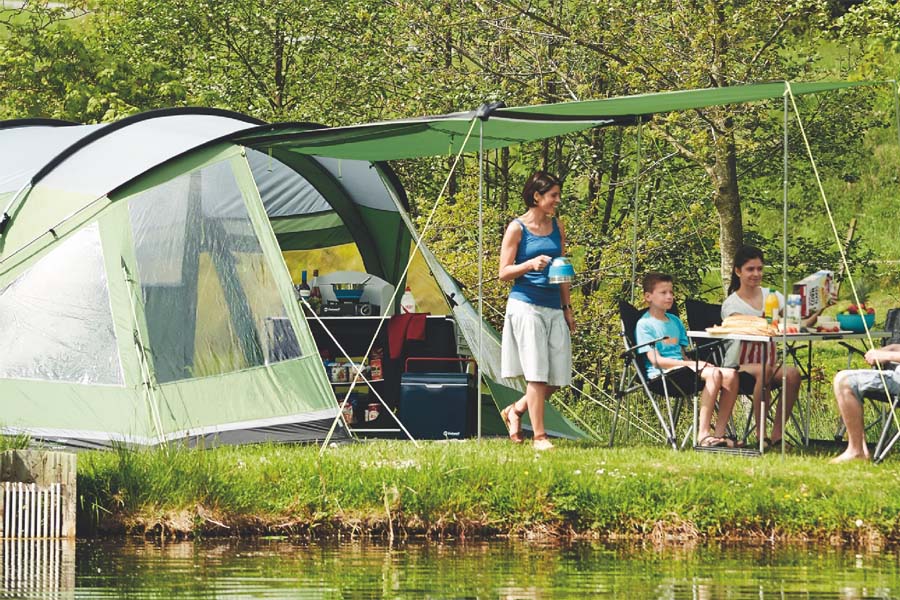 Customer Reviews
Delivery & Returns Information
» Click here to read full details about our delivery, including times & prices
You might also like: