Weight: 415g
Power 6,000 BTU/h
Volume: 1 litre
Water boiled: 12 litres per 100g Jetpower can
Dimensions: 5' x 6'
Jetboil are well known for their highly innovative cooking systems and the MiniMo allows you not only the usual functionality of boiling water, but also the ability to cook.
It's new designed valve control allows the best temperature regulation of any cooking device with an upright canister on the market. State of the art technology ensures a consistent temperature all the way down to -6 C meaning you can rustle up something to eat in even the most extreme of conditions! And if you're out in conditions like that, you may even want to use it for melting snow!
Key Features
Fuel canister stabiliser included
Push button igniter
Ease of eating straight from the cup
Advanced simmer control with redesigned valve and regulator
Sideways burner storage minimising pack space
Compatible with a number of Jetboil accessories
Jetpower Fuel not included
What makes the MiniMo so special?
As aforementioned, many other portable cooking stoves of this size simply allow you to boil water for convenience meals. However the MiniMo allows you to cook up a whole host options whilst on your travels. The regulator ensures a consistent fuel flow to give you greater control over your condition no matter how wet and windy conditions may be and if your exploring around the UK, you can bet that will be the case!
You can also eat straight from the MiniMo, allowing you to not only save on space amongst your equipment but also on washing up! The metal handles provide a strong, sturdy grip whilst its low spoon angle makes eating out of it all the more straight forward. The insulating drink through lid allows it to double up as a flask and the way in which it all packs away makes this such a versatile product.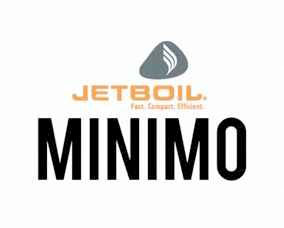 How quick can it boil water for my tea?
For 1/2 a litre of water it takes just 2 minutes and 15 seconds to boil, so you and your travel companion can have a cup of tea in no time. Like most of Jetboil's cooker range it comes with an electric piezo igniter, making it a doddle to get your heat source. Be it tea, coffee or boiling hot water for your rice or pasta, the MiniMo will ensure you will not have to wait very long whatsoever.