Gelert Fold Away Whistling Kettle
NEXT WORKING DAY DELIVERY
On this product to UK Mainland
Order before 12PM today and get it Friday 24th November
A great kettle if you want to save on space.
Gelert Fold Away Whistling Kettle
Finally it's here – the compact, whistling kettle technology that we've been waiting for. There's nothing not to like about this kettle, especially when you consider it's your pathway to tea or coffee first thing in the morning.
That's pretty essential after a night in a tent.
Compact Fold Away Kettle
This Gelert Fold Away Whistling Kettle holds 1 whole litre of water, which is more than enough for a couple of mugs of the good stuff, so it's a great little camping cookware accessory if you need to save on space.
It's also incredible lightweight and easy to clean - it all sounds pretty good so far, right?
Feeling hot
The kettle itself is made from heat resistant silicon – another great example of Gelert ensuring your safety while you're cooking in the great outdoors.
It then has an aluminium base to conduct your heat, which is suitable for most surfaces. That's why this device is so lightweight when it comes down to it – the materials used make it ideal for packing away.
Dual functionality
'Just how much can this kettle do?!' you ask – well wouldn't that just be telling.
But seriously, it actually does more than just allowing you to boil water. The removable silicon lid means it actually has dual functionality as a cooking pan.
That's ideal if you just need to heat something up, although we'd still recommend checking out our range of cooking pans if you're more of an adventurous camp site cook.
Product Specifications
Compact 1 Litre
Heat resistant silicone with light weight construction.
Aluminium base suitable for most surfaces.
Removable silicone lid for dual funtionality as Cooking Pan
Easy to clean
Whistling Cap to let you know when water has boiled.
That whistle
What would a camping kettle be without that high-pitched whistle to let you know that it's boiled? It's that classic camping sound that we all love, for no particular reason other than it just reminds us of outdoor living.
Just embrace it – love the great British outdoors experience, and put that kettle on.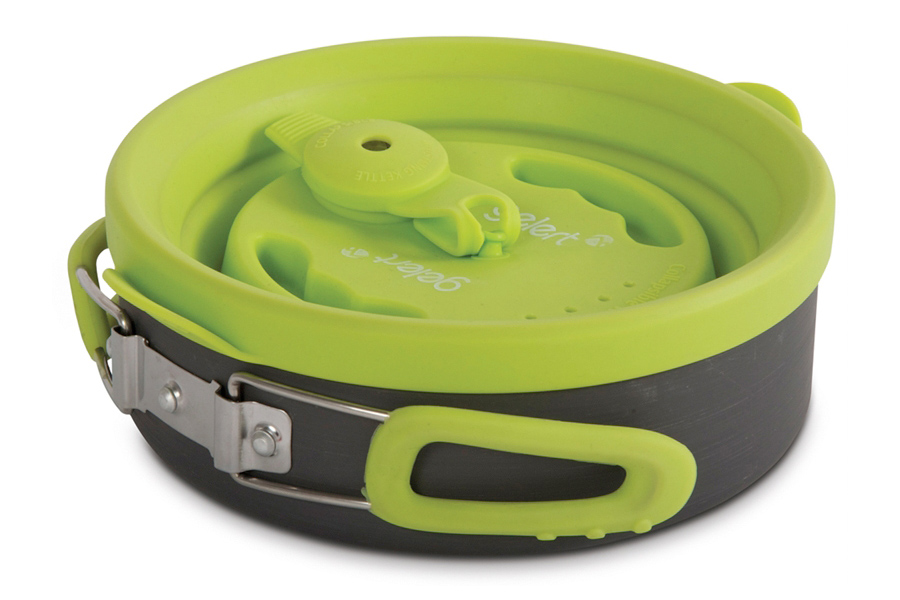 Payment, Delivery & Returns Information

» Click here to read full details about our delivery, including times & prices
You might also like: