Last updated on July 30th, 2021 at 12:31 pm
A major consideration for holiday planning is the cost. Whilst we'd all love to live in a world where budgets don't exist, for those of us who do have to consider costs, hiring a campervan can be a fantastic way to enjoy a wide variety of travel experiences, without having to factor in expensive flights and hotels.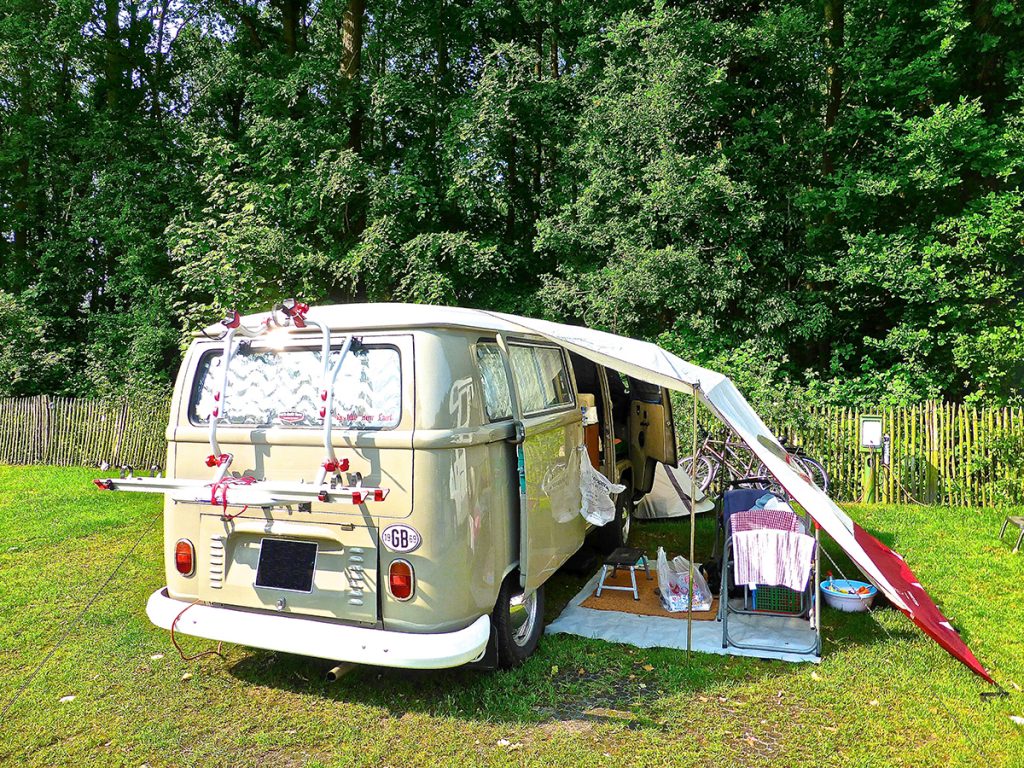 In this article we're going to look at all things campervan, including average costs, additional costs to factor in, how to save money on a campervan holiday and what to look out for when planning your trip.
Campervan vs motorhome – what's the difference?
Before we go any further, we're going to look at the differences between a campervan and a motorhome, because it's easy to confuse the two…
Campervans are typically either converted or specially designed vans. They maintain the shape and feel of a van, are built on a standard van chassis but have the back section built to provide seating and sleeping space, plus a basic kitchen which will include a small sink, fridge and a hot plate.
There's no separation between the 'cabin' section where the driver and passengers will sit, and the back of the van.
For the most part, campervans don't have showers or toilets but in some rare cases they do. These are generally in the much bigger models and will come at an extra price, as you'd expect when you upgrade the facilities.
A campervan is more van-like to drive in the sense that it's smaller, so will be suitable to drive around as your day-to-day car (although a little thirsty when it comes to fuel on account of the weight!).
A motorhome is more a house on wheels. It'll usually have a toilet, a shower and a more advanced kitchen. A lot of the higher end motorhomes will be fully equipped with an advanced entertainment package containing a TV and a DVD player.
Motorhomes are much bigger (even at the smaller end) and are more like a bus to drive than a van. They don't make great cars, so are only really suitable for the purpose they're intended for. They're particularly bad when it comes to fuel efficiency, averaging 7-25 miles to the gallon, yet another reason why they're not great as a day-to-day vehicle.
Who suits a campervan?
On account of them being smaller and more basic, the campervan is best suited to couples or smaller families. Generally speaking, they'll sleep a maximum of 2 adults and perhaps a couple of small children comfortably. Anything beyond that though and you'll need another solution. You can extend the living and space by adding a campervan awning to the side.
It doesn't offer anywhere near the level of facilities that a motorhome does, but if you're looking for something a little more spartan, it's perfect.
For families who will want/need to keep kids entertained, it's possibly not as good a choice as the motorhome. That being said, you can find campervans with additional entertainment options available, they're just not as common.
If you're looking for a more mobile, adventurous holiday then a campervan is an excellent choice, because it's better to drive than the bigger, heavier motorhome. It'll also cost you much less in fuel and be an easier vehicle to park, regardless of where you're going.
A campervan is the perfect option for mobile holidays where you'll be exploring a lot of different places. They're the perfect vehicle for a surfing, kayaking, climbing or cycling holiday in the back and beyond.
Which is cheaper to hire?
A campervan is normally significantly cheaper to hire than a motorhome, because they're smaller, sleep fewer people and are a lot more basic in terms of set up. They're also far easier in terms of requiring less set up of chemical toilets, water systems and the like.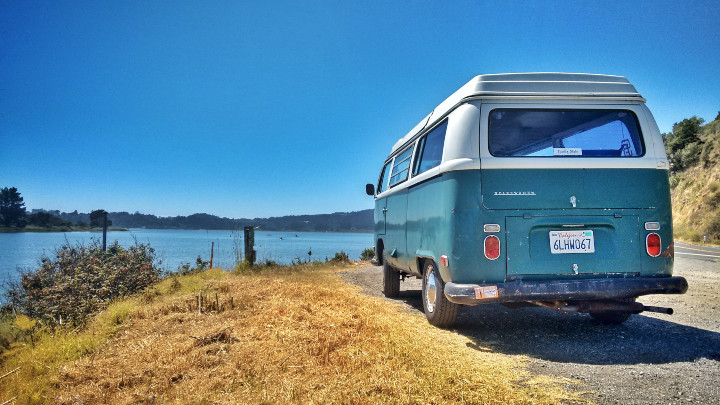 Like any form of accommodation there are factors that will influence costs significantly. Here's a basic run down of them…
Size of the campervan
This is the most obvious one of all. The more people your van can sleep, the more expensive it will be to hire. As mentioned earlier, most vans will sleep 2 adults very comfortably. You can increase this by a couple of small children with the right configuration. Any more than this though and you'll need a side awning to add the extra bed space.
Time of year
Unfortunately, campervan rentals aren't immune to price fluctuations throughout the year, so the same increases that occur in the wider travel industry will happen in the campervan rental world too. Expect prices to double (or more) in the peak of summer but be significantly lower outside of the high season.
Features
If you hire a campervan with all of the mod cons, TV, DVD player, internet access, shower, toilet, working kitchen etc. it'll cost you a lot more money than if you were to hire a basic van with a small fridge and a hot plate. With a lot of people having access to unlimited data on their phones now though, they don't usually need TVs and DVD players.
Duration of hire
Put simply, you buy in bulk, you get a discount. The per-day hire price of a campervan will usually drop slightly, the longer you hire it for. The price drop depends on the organisation you hire from, but hiring for a week as opposed to a weekend only will usually see the per day price drop by around 10-25%.
Average campervan price
The average price of rental for a campervan will be around £300 per week in the low season, climbing to over £1000 per week in the high season. The price will vary depending on the factors mentioned above, but this will serve as a good rough estimate. There are additional costs to consider, which we'll outline below…
Additional running costs
Don't make the mistake of forgetting the additional costs of a trip. When you are working out the price of your holiday, here's a few additional costs you may not have considered when you were looking at the hire price…
Fuel costs
Campervans are much more fuel efficient that motorhomes, but they'll still cost you fuel when you're driving around and about. Modern campervans can be expected to reach up to 40 miles to the gallon on a good run, but around 30-35 the rest of the time. Although this is much better than motorhomes (7-25 miles to the gallon), it can still add up if you do a lot of driving.
Pitch costs
When you stay overnight on a site, you'll have to pay a fee. The costs of the pitch will depend on the level of facilities you want – if you have a water and electric hook up for example, it'll cost you more than if you just want a basic pitch. Expect a fee of £10-£20 per night. Some car parks will let you stay overnight for a fee too, so keep your eyes peeled.
Bear in mind you can stay in some wild camping spots for free, but you'll have to check local rules and regulations before you do so.
Toll roads
Depending on where you are intending to travel, you may have to factor in toll road costs. This isn't a major issue in the UK because we have relatively few toll roads, but if you are travelling into Europe you may want to do your research beforehand, because toll roads are more common over there.
Campervan hiring – final thoughts
There's no better way to explore than in a campervan. It totally changes the dynamic of a holiday because you're no longer in a fixed location. You can hop from place to place, enjoying a different type of break each time.
If you stay in this country you have a wide range of places to visit – you can visit the beaches of Cornwall, you can go mountaineering in Wales, you can explore the Scotland 500 trail, you can visit the Lakes, the Peak District and the Yorkshire Dales.
If you want to travel further afield, you can enjoy some incredible places on the continent – over the course of a couple of weeks you could feasibly enjoy time in France, Spain, Germany, Switzerland, Austria, Italy and the like! You could combine years' worth of travel into a single trip!
If you've never thought about that type of holiday, it's worth exploring it. There are few nicer experiences than watching the sun go down on an amazing beach, enjoying a BBQ and a beer then heading to a comfortable bed in the van, before waking up and doing it all again in a brand-new location the next day.
It's a great way to build up memories that will last a lifetime, all without the queues in airports and the expense of flights, hotels, and transfers. It could transform the way you holiday forever.
Other Campervan-related Posts on Planet Camping: