Musuc Bag Lite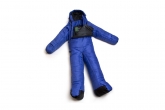 MusucBag Lite - Blue Sleeping Bag Suit
More Info & Buy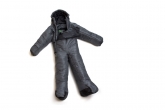 MusucBag Lite - Charcoal Sleeping Bag Suit
More Info & Buy
Musuc Bag Lite
The Musuc Bag Lite is the lighter and less bulkier version of the Musuc Bag Classic.
Ideal for Spring/Summer time use.
The Musuc Bag Lite is proving popular for wearing indoors on chilly Winter nights.
Festival campers find the Musuc Lite ideal when the evening temperatures drop.
The Musuc Bag Lite has all the same features as the Musuc Classic - albeit just on a smaller scale!
Both options offer great mobility and freedom but the Lite is exactly what it says it is - a lighter version.
It is also easier to store and carry as it isn't as bulky. Both have all the mod cons including; insulated hoods and Velcro hand release system.
Both Musuc bags/Selk Bags are great buys, but depending on what your plans are, one may be better suited to you than the other.