Kids Musuc Bag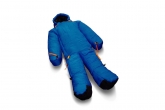 Kids MusucBag - Blue Sleeping Bag Suit
More Info & Buy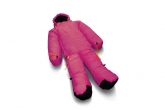 Kids MusucBag - Pink Sleeping Bag Suit
More Info & Buy
Kids Musuc Bag
The Musuc Bag for kids is certainly one way to allow the children to make a statement. Full of vibrancy and fun, the design is quirky and will certainly go down well with their friends. When it comes to buying any products for the kids, it is important that it will be able to last the distance and will be durable as well as versatile - the Musuc bag offers this plus so much more.
The unisex product will allow them to keep warm with its high quality insulating materials but will also allow their bodies to breathe and be mobile - most important for the young ones. In basic terms it is a sleeping bag with arms and legs that will provide all the great aspects of a sleeping bag whilst also allowing them to go about their normal activities.
The design is also full of child friendly features including rubberised canvas footing, elasticised hood pulls and ankle ties that will prevent the bag from bunching up. The product doesn't just have to be used for outdoor camping trips either as it also proves a great product to wear indoors when it is a little cool.
Kids will love the look of them and parents will be safe in the knowledge that they are extremely hard wearing and excellent value for money too. They have great extreme and comfort temperature ratings on them too so regardless of where you are and how cold it gets, you can rest assured that that they'll be comfortable and warm for the duration.