Double Sleeping Bags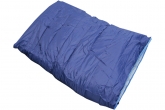 Sleepline 250 Double Sleeping Bag
More Info & Buy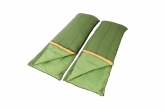 Atlanta Double Sleeping Bag by Easy Camp
More Info & Buy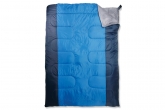 Gelert Hebog 200 Double Sleeping Bag
More Info & Buy
Double Sleeping Bags
Free Inflatable Pillow with every order!
Double sleeping bags are hugely popular as they allow two people to sleep together whilst still being able to make the most of all the best characteristics and insulating components that a single sleeping bag provides. Double sleeping bags are generally used for couples who are camping as they can still sleep side by side regardless of where they are, however, the double sleeping bag can also be used for sleepovers.
If you have friends staying over and not enough beds, a double sleeping bag will do the trick as they are easy to get out, will be comfortable for couples, and can easily be put away again - it's much simpler than making beds up. Unbeknown to many people, a double sleeping bag can vary with regards look and shape and not all are the same.
For instance, there is the popular 'mummy' shaped sleeping bag as well as the rectangular sleeping bags and both have different characteristics and should be purchased depending on what you prefer. Some come with hoods, zips, and in some cases a double sleeping bag can be separated to form two single sleeping bags - perfect if there are any disagreements!