Snugpak Chrysalis 1 Mummy Sleeping Bag
FREE DELIVERY

Included
Order by 12PM For Delivery Tomorrow
Please select from the following options:
Get this freebie when you buy this item:
Camping Micro Pillow - Blue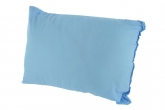 Promo Price with this item : FREE
Call us now for bulk orders:
01962 883489
Chrysalis 1 Mummy Sleeping Bag
FREE Highlander Micro Pillow worth £5.99! with every Chrysalis Sleeping Bag
The Chrysalis 1 Mummy Sleeping Bag isn't just a sleeping bag, it is a product that is designed to make any outdoors trip as convenient, comfortable and simply as affordable as possible.
Quality where it counts
The lightweight and durable Snugpak Chrysalis 1 mummy sleeping bag is known for its built in removable torch that sits in the hood. This feature is actually ideal for those times when you wake up in the night and don't want to fumble around for a torch – it even comes with an additional flash setting. It may sound simple, but this idea is actually a revolution, and once you've had the convenience of the LED torch, you'll wonder why the idea wasn't thought of before now – we know we did!
Compact with extra space to get cosy
This sleeping bag, which has a special expander panel that allows an extra 10cm - 22cm sleeping space so that you can really get comfortable, is also extremely well insulated. What's more, it is also perfect for storing away when you get back home as it has a small pack size. The stuff sac means that this product won't take up much room in your cupboards during the colder winter months.
Keeping you warm
With a comfort temperature rating of seven degrees Celsius and an extreme temperature rating of 2 degrees Celsius – whether you're camping in spring, summer or autumn you'll find that you're completely protected from the cold. Add all this to the free Highlander Micro Pillow and we know you're bound to get a great night's sleep. All in all, this is truly a superb product, available to you at an even more superb price.
Extra information
Dimensions
Unrolled: 220cm x 75cm (87.5cm with Expander Panel)
Pack Size: 22cm x 16cm
Weight
1kg / 2.2lbs
Materials
Filling: Softie Insulation
Shell: Paratex Micro
Lining: Paratex Light
Product Specifications
Temperature Limits
Comfort Temperature: 7°C / 44.6°F
Extreme Temperature: 2°C / 35.6°F

Season 1
Other Features
Removable LED Light with on, off and flash settings
Reflectatherm Layer
Special Expander Panel allowing an extra 10cm - 22cm sleeping space
Lightweight
Small pack size
Highlander Micro Pillow
Payment, Delivery & Returns Information

» Click here to read full details about our delivery, including times & prices